Have a Hoppy Easter with this Free Printable Coloring Page
Looking for a fun printable Easter activity? Print out this free coloring page and have some fun with your kids! This adorable Easter coloring page features a cute bunny rabbit ready to celebrate Easter.
As any parent knows, Easter can be a hectic holiday. There are baskets to fill, eggs to hide, and relatives to entertain. In the midst of all the chaos, kids often want something fun to do. Don't worry, I've got you covered. This coloring page is perfect for kids of all ages and features a sweet little bunny, a basket full of eggs, and a butterfly.
Just print out this coloring page and leave it on the kitchen table Easter morning with a new box of crayons. Your little ones will be so excited to find it when they come downstairs.
Why Coloring is Good for Kids
Coloring is a great activity for kids because it helps promote creativity and relaxation. It can also help improve focus and concentration. But, coloring is more than just a fun activity for kids.
It can also help to develop important skills. For example, coloring can encourage children to be more creative and expressive. It can also teach them about colors and how to use them in the world around them. In addition, coloring can help kids to improve their fine motor skills and hand-eye coordination.
And because it is such a calming activity, it can also help kids to learn how to manage their emotions and deal with stress. So next time your child asks to color, don't hesitate! It's not just a fun activity – it's also an important learning opportunity.
This coloring page can be used in your homeschool or classroom for an extra Easter-themed activity or it can be used by moms with their kids at home who just want a fun activity to keep the little ones occupied.
Free Printable Easter Coloring Page
This printable coloring page for easter say, "Have a Hoppy Easter" and is so cute! Your kids will love it!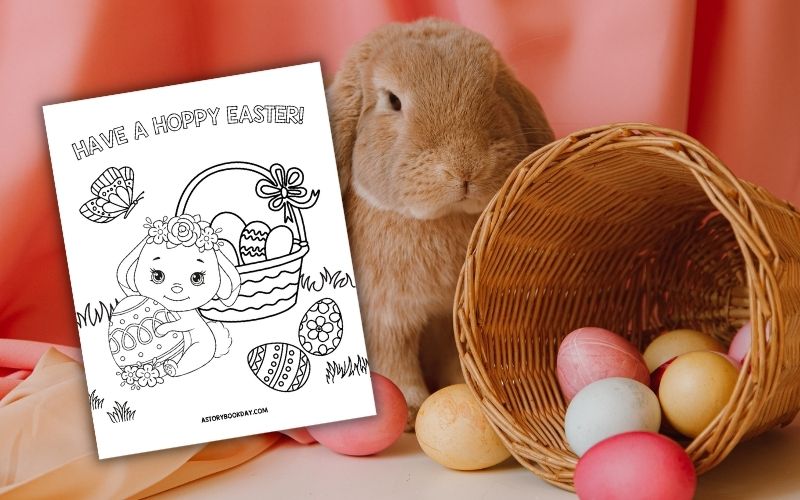 How to Download
Just click on the button below and you'll be taken to the download page.
Coloring pages are a great way to relax and have some fun with your kids. This Easter-themed page is perfect for children of all ages, and it's easy to print out right from your computer. I hope you enjoy this free printable!
More Easter Resources You'll Love
More Coloring Pages for Kids