My Vegetable Garden Coloring Page
Do you have a little one who loves to color? If so, we have the perfect printable for you! This My Vegetable Garden coloring page is perfect for kids of all ages. They can use it to learn about the different vegetables that can be grown in a garden, or simply color for fun. Print out this free coloring page and enjoy some quality time with your child!
Your kids will have a blast coloring on this fun page, and they'll learn about vegetables at the same time. Who knows – maybe they'll want to start their own vegetable garden after they finish coloring on this page!
Kids will love filling in all the different vegetables on this fun printable! They can also use it as a learning tool to help them learn the different types of vegetables that can be grown in a garden.
This printable coloring page is filled with delicious vegetables:
eggplant
cauliflower
cucumber
broccoli
carrot
onion
pumpkin
bell pepper
cabbage
tomato
You can use this printable coloring page as part of a gardening lesson, grocery store lesson, healthy eating lesson in your homeschool or classroom. Or you can just use it as a fun activity when you need something to keep your little one busy.
Why coloring is a good activity for kids
There are a lot of reasons why coloring is a good activity for kids. Here are just a few:
Coloring can help improve hand-eye coordination.
It can help promote fine motor skills.
It can help children develop creativity and imagination.
It can provide a sense of accomplishment and boost self-esteem when children finish coloring a picture.
So print out this free My Vegetable Garden coloring page, gather some crayons or colored pencils, and have some fun! And if you liked this free printable, you'll love my Free Printable Garden Scavenger Hunt for Kids!
Free Printable My Vegetable Garden Coloring Page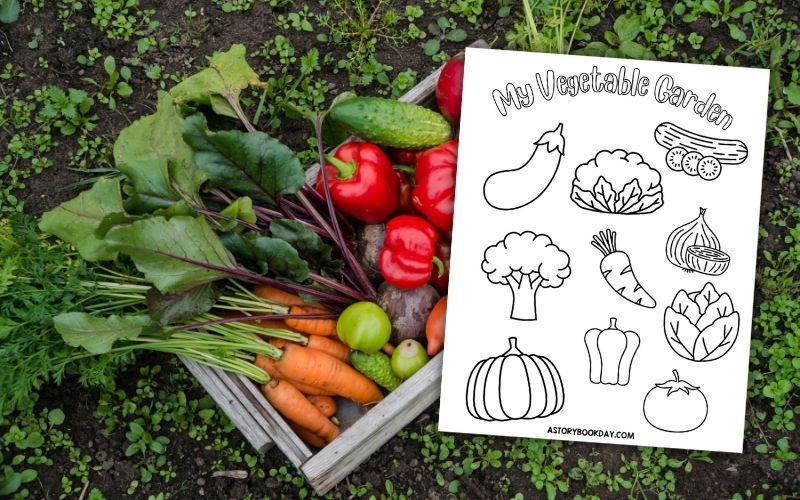 How to Download
Just click the button below and you'll be taken to the download page.
Coloring pages are a great way to get kids interested in vegetables, and this printable My Vegetable Garden page is no exception. We hope you and your little ones enjoy it! Thanks for reading! Be sure to share this post with the buttons below!