Free Printable Easter Bunny Crown for Pretend Play
Looking for a fun Easter printable activity to do with your kids? We've got you covered! This Easter Bunny Crown is not only super cute, but it's also really easy to make. Plus, it's free to download! All you need is some printer paper, scissors, and a glue stick. Your kids will love playing pretend with this adorable Easter bunny ears crown!
Easter is coming up and I've got the perfect free printable for you!
This Easter Bunny Crown is so adorable, your kids will love playing pretend with it. They can wear it for Easter photos, during Easter egg hunts, or just around the house for some extra fun. We know your kids are going to love it!
How to Use this Printable Easter Bunny Crown
To use this printable Easter Bunny Crown, you will need:
Card Stock paper
Scissors
Glue stick or tape
markers, crayons, or other decorations
Print out the crown and cut it out. Glue or the strips together to form a circle to fit your child's head. Your child can color in the ears and flowers with markers or crayons. Add glitter or other elements for extra fun.
Why Is Pretend Play So Important for Kids?
Pretend play is an important part of childhood development. It helps children learn how to interact with others, develop their imagination, and practice new skills. Playing pretend also allows children to explore different roles and emotions. All of these things are crucial for healthy social and emotional development.
Free Printable Easter Bunny Crown
So go ahead and download this free Easter Bunny Crown! Your kids will love it! And be sure to check out our other fun Easter printables too!
You can find a full-color version of this bunny crown here.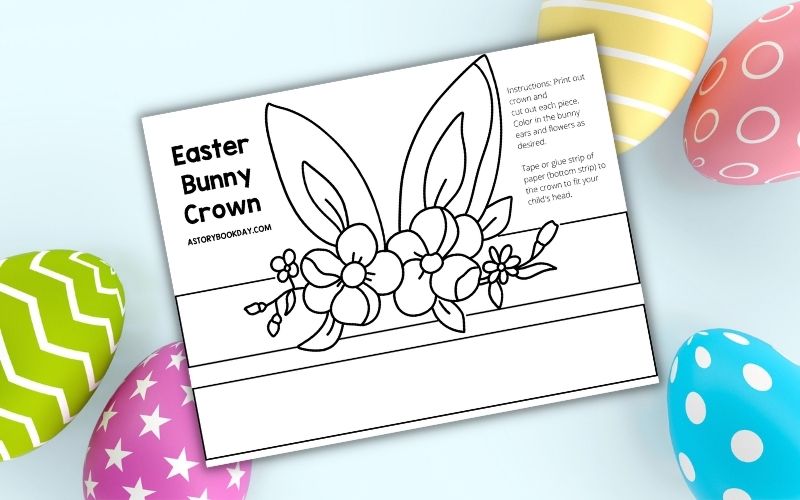 How to Download
Just click on the button below and you'll be taken to the download page.
This Easter Bunny Crown project is simple enough that almost any age can participate and have a blast playing pretend with their friends or family. We hope you enjoy this craft as much as we do! What other fun Easter activities do you have planned?
More Easter Printables for Kids