Free Printable Easter Word Scramble for Kids
Looking for a fun Easter activity to keep the kids busy? Try this free printable Easter word scramble! It's a great way to help them learn some new words, and it's sure to keep them entertained. We've included a list of all the words they need to unscramble, as well as the answer key. So download it now, and get started!
Easter is coming up and I have a fun printable for the kids! This word scramble is perfect for keeping the kids entertained on Easter Sunday. They'll love trying to figure out all of the words.
I know parents are always looking for new activities to keep the kids busy, so I wanted to share this free printable with you.
Word scrambles are not only fun and challenging, but they also help improve your child's vocabulary and spelling skills. So grab a pencil and paper, and get ready to have some fun!
My daughter Emily always loved a good challenge. When she was little, she would love to do word scrambles and other puzzles to test her skills. She was always so proud of herself when she managed to solve them!
This fun printable Easter Word Scramble is a great way to help your kids learn some new words while they're having fun. There are 12 words to unscramble, and the answer key is included.
Free Easter Word Scramble for Kids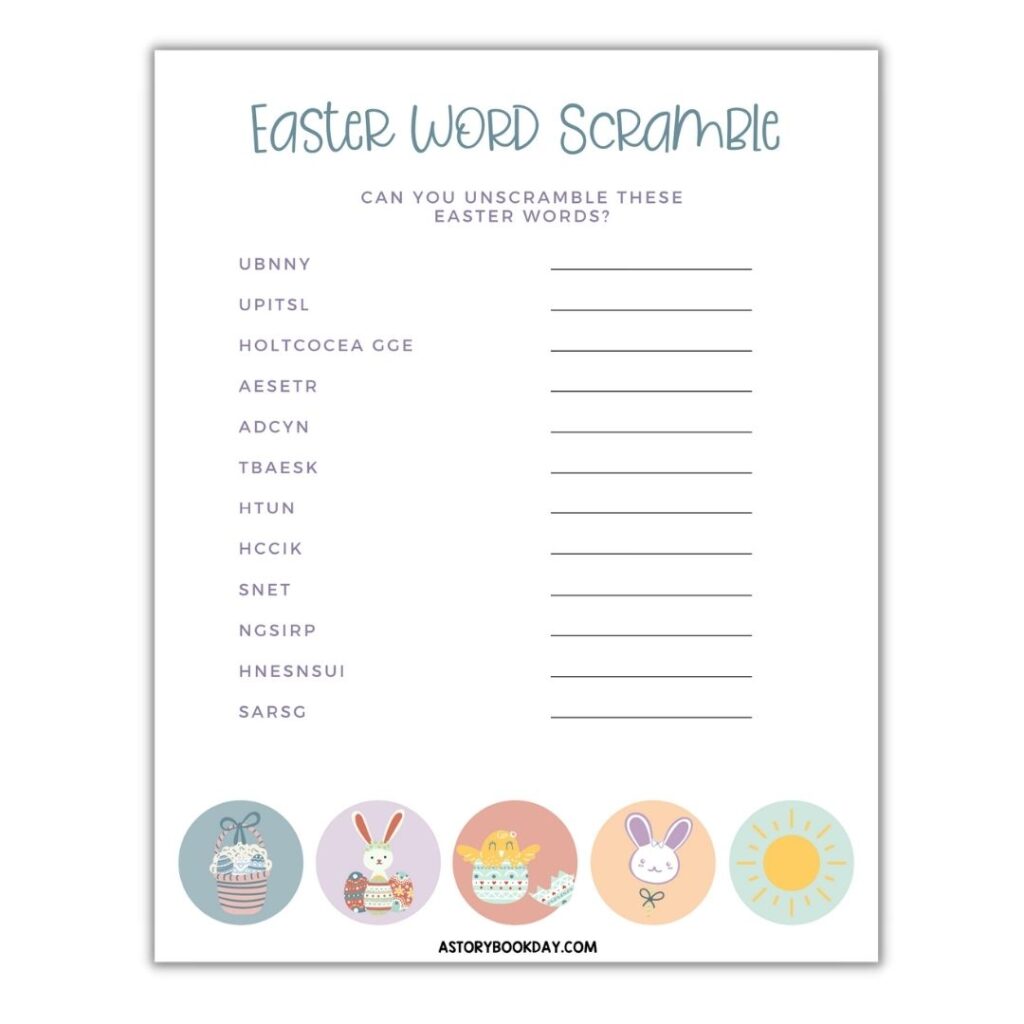 The Easter-themed words included in this word scramble are:
Bunny
Tulips
chocolate egg
easter
candy
basket
hunt
chick
nest
spring
sunshine
grass
Other ways you could use this Easter word scrambler are to have a contest between siblings or friends or to use it as part of an Easter scavenger hunt. The possibilities are endless!
You could also use this word scramble in your homeschool curriculum. It would be a great way to review some of the Easter words your child has learned.
I hope you and your kids enjoy this free printable Easter word scramble. And if you do, be sure to check out our other fun printables too!
How to Download
Just click on the button below and you'll be taken to the download page.
Easter is a fun time of year when we get to celebrate new life and all things spring. I hope you enjoy this free printable Easter word scramble with your kids! If you do, be sure to share it with your friends using the buttons below!
More Easter Activities for Your Kids