Back to School Teacher Gift Card Holder: Free Printable
The first day of school is a special day for kids and teachers alike. It's a time to reunite, catch up on summer adventures, and get ready for another year of learning. This year, why not surprise your teacher with a special Back to School Teacher Gift Card Holder printable? I've created a free printable template for you to use, so your gift will be extra-special!
It's that time of year again! The leaves are starting to change color and the air is getting a bit cooler. That can only mean one thing: kids are heading back to school!
It's no secret that teachers spend a lot of their own money on school supplies for their classrooms. In fact, a recent study found that the average teacher spends over $600 out of pocket on supplies each year.
While this may seem like a lot, it's important to remember that teachers play a vital role in shaping the lives of their students. They are often the ones who instill a love of learning in young minds, and they help to prepare students for success in the future.
For teachers, investing in school supplies is simply an extension of their commitment to their students. The next time you see a teacher buying supplies for their classroom, take a moment to thank them for their dedication to education.
There's one way to lighten the load and show your child's teacher how much you appreciate all their hard work: give them a gift card to help buy things they need for their classroom.
A gift card to a local store will allow the teacher to buy whatever supplies they need, and it's a thoughtful gesture that will be appreciated.
How to Use this Printable Gift Card Holder for Teachers
This super cute printable teacher gift card holder says: "Back to school shopping isn't just for students!" The printable features a fun back to school design.
print out the template onto heavy card stock
cut along the crop marks
attach a gift card of your choice
write a personal note of appreciate on the back
Note: You want to print the card as the actual size – not fit to page. The card should print at 5″x7″ size.
What's included:
More Ideas for Back to School
More Printables You'll Love
Teacher Gift Card Holder Printable for Back to School
Thank your child's teachers for all their hard work this school year with a special Back to School Teacher Gift Card Holder. This free printable template is the perfect way to show your appreciation!
You can even add a personal note on the back of the printable to let your teacher know how much you appreciate them.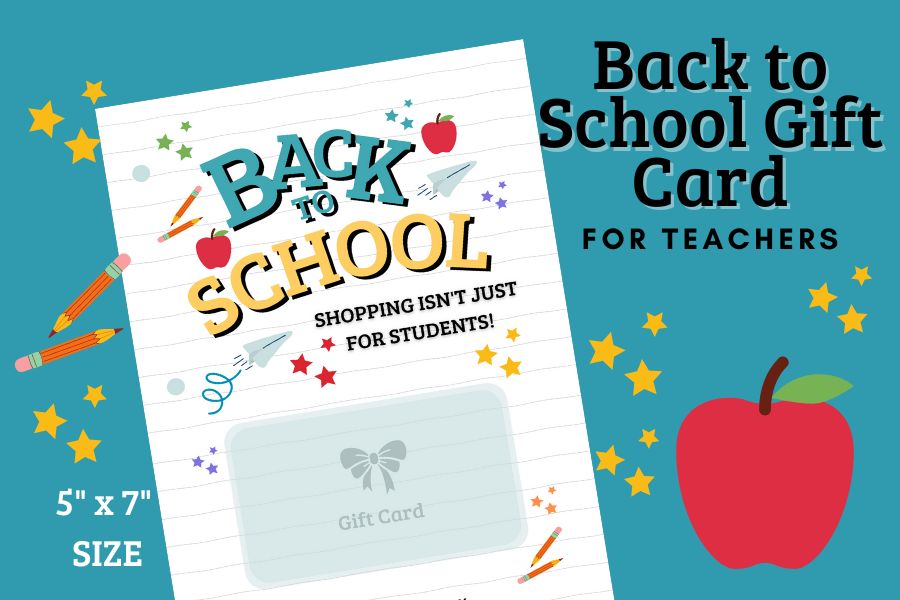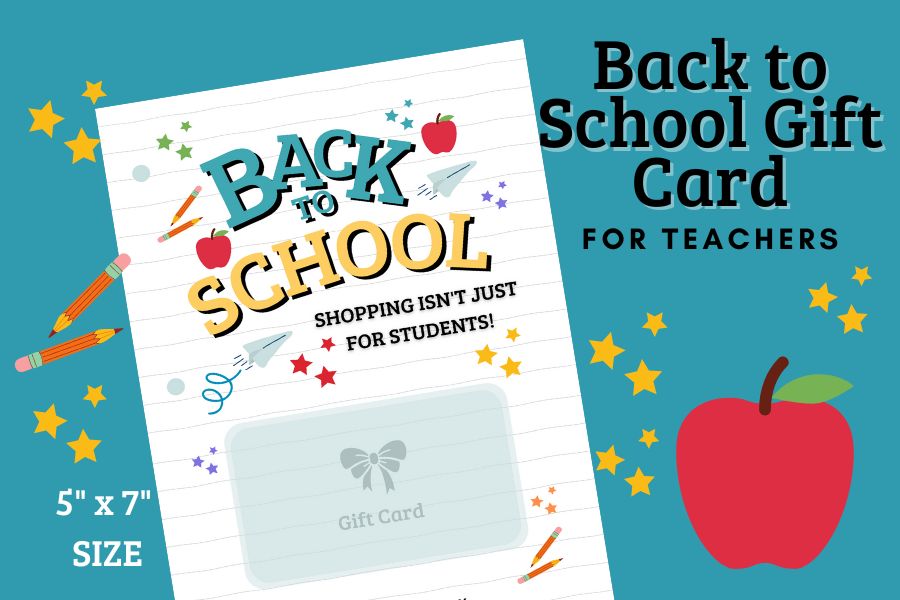 How to Download
Just click on the button below and you'll be taken to the download page. 🙂
I hope you enjoy this free printable template! Be sure to check back next week for more free printables and back to school ideas!