Fun, Free Printable Robot Dice Game for Kids
Are you ready to combine the excitement of robots with the thrill of a roll of the dice? You'll love this Free Printable Robot Dice Game for kids — a delightful fusion of fun, learning, and creativity. Whether you're a parent seeking a new at-home activity or a teacher looking for a classroom hit, this game promises to captivate young minds and unleash their imaginations. Dive in to discover what robotic adventures await with every roll!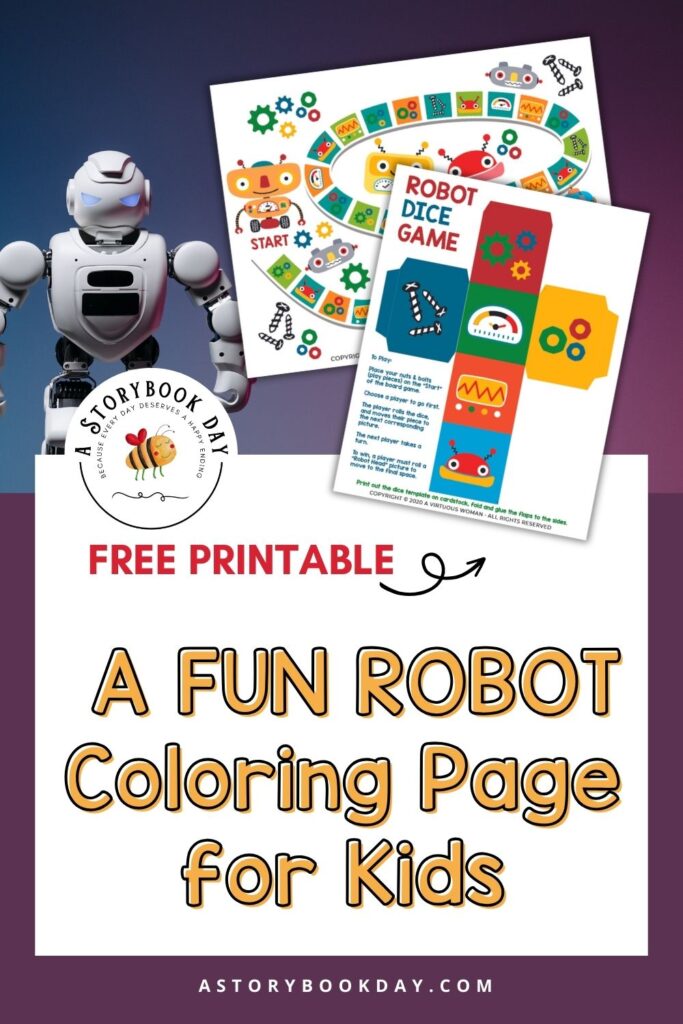 If you're looking for a fresh, engaging activity that combines learning, creativity, and a dash of luck, then you're in the right place! Today, I'm excited to introduce this Free Printable Robot Dice Game — a perfect afternoon activity for kids to enjoy!
What's the Buzz About the Robot Dice Game?
Imagine a game that captivates your child's attention, fuels their imagination, and enhances their counting skills — all this without any screen time. That's exactly what our Robot Dice Game is all about!
Designed with vibrant colors, cute robot illustrations, and easy-to-follow rules, this game is suitable for children aged 3 and up. Whether it's a quiet afternoon at home, a playdate, or even a classroom setting, this game is versatile and can be enjoyed anywhere.
How to Play: A Step-by-Step Guide
1. Download and Print:
First things first, download the game board and pieces from our website. It's completely free! Print them out on sturdy paper for best results. I like this card stock paper.
You can also laminate the board game for extra durability for multiple use.
2. Cut Out the Pieces:
Carefully cut out the dice pieces, fold, and glue or tape it together to create a fun die for your child to play the game with. If you have a laminator, laminating the pieces can add durability, especially for eager little hands.
3. Roll the Dice:
Players take turns to roll the paper dice. The picture shape rolled corresponds to a specific place on the game board.
4. First to Finish:
The first player to get to the finish line is the winner!
Skills in the Spotlight
Not only is the Robot Dice Game loads of fun, but it also stealthily incorporates educational elements.
Counting Skills: Rolling the dice and counting the dots helps to reinforce basic counting skills.
Color Recognition: The colorful robot parts aid in color identification and matching.
Patience and Taking Turns: Learning to wait for their turn teaches children patience and fair play.
Why Parents and Teachers Love It
Easy Setup: No complicated instructions or setup required. Print, cut, and you're ready to roll!
Engaging and Educational: Keeps kids engaged while also offering educational benefits.
Encourages Social Interaction: Perfect for playdates, family game nights, or classroom activities.
Affordable Fun: It's completely free and can be printed as many times as you want.
Free Printable Robot Dice Game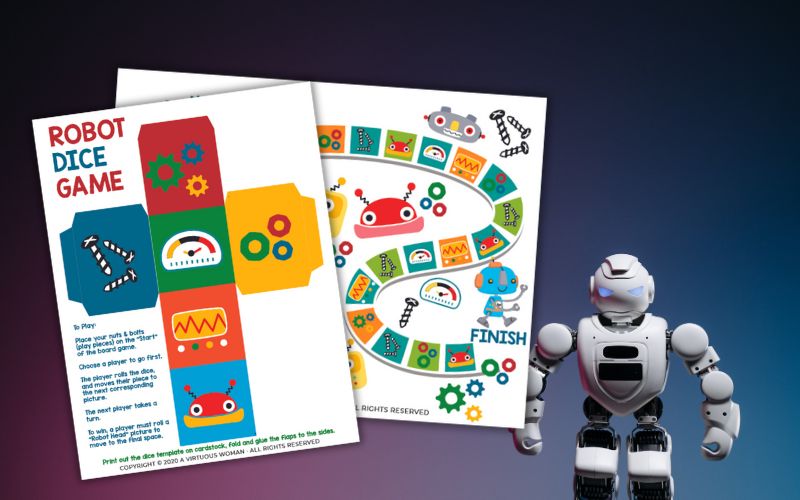 How to Download
Just click on the button below and you'll be taken to the download page.
In Conclusion
Dive into a world of robotic fun with our Free Printable Robot Dice Game! It's an activity that promises laughter, learning, and lots of creative play. Perfect for parents and teachers looking to provide an entertaining yet educational experience. So, what are you waiting for? Download, print, and let the good times roll!