Free Printable Dinosaur Valentine's for Kids to Share
Valentine's Day is a special day of the year when we show our love and appreciation to those around us. For kids, it's a fun opportunity to show their friends how much they care by exchanging Valentines. If you're looking for a unique way to surprise your little ones this year, why not use these free printable dinosaur valentine's day cards? 
Dinosaurs are always a hit with kids, so why not combine that love with the fun of Valentine's Day? You can easily make these dinosaur valentines at home in no time at all. All you need is some cardstock, scissors, and my printable dinosaur Valentine's Day Cards!
What Kids Love About Dinosaurs
Kids love dinosaurs for so many different reasons. They are big and powerful, yet mysterious and extinct. Kids love the idea that they were once real creatures who roamed the earth long ago.
Why Dinosaur Valentines?
Dinosaurs are a great way to make Valentine's Day a bit more special. Kids will love the unique and exciting dinosaurs on these cards, and you can even customize them with your own message.
Why Kids Love Exchanging Valentine's Day Cards
Valentine's Day cards are a great way for kids to share their love and appreciation with friends and family. It's an opportunity to show people how much they mean to them, in the form of a fun card. Kids will have a blast writing their own messages on these cards and handing them out to their friends.
Making Your Own Dinosaur Valentine's Day Cards
Making your own dinosaur valentine's day cards is easy and fun! Start by printing out my free template on cardstock. Cut the dinosaurs out along the dotted lines, then write a sweet message inside each one. You can also glue on googly eyes, glitter, or other decorations to make them even more special.
You can also tape a piece of candy or a small dinosaur toy to the back of each Valentine's Day card as well for an extra special treat.
When your Valentine's Day cards are ready to go, it's time for the fun part: delivering them to friends and family! Kids will have a blast handing out these sweet little cards and watching their friends and loved ones light up with joy.
More Dinosaur Printables You'll Love
How to Use These Valentine's Day Cards
Simply print the cards onto cardstock, cut them out, and write a special message on the back of each one. Your kids will be sure to have a blast sharing these cards with their classmates! 
What's Included:
3-page .pdf with 12 unique designs
Dinosaur Books Your Kids Will Love
Dinosaur Books to Read Aloud
If you're looking for some fun dinosaur books to read aloud to your class, we've got a few recommendations for you! These books are sure to get your little ones excited about all things dinosaurs.
 Different Ways to Use these Printable Cards
Use these cards as Lunch Box Notes
Use these cards to write sweet affirmations for your child
Attach them to a special gift
Give them out as party favors
Create your own Valentine's Day scavenger hunt
No matter how you use them, these free printable dinosaur valentines will be sure to bring joy and excitement this Valentine's Day! Have fun
Conclusion
Making Valentine's Day cards can be an enjoyable activity that everyone in the family can join in on. And when it comes to adding some extra pizzazz this year – why not let dinosaurs take center stage? Whether it's DIY dinosaur cards or store-bought options – these prehistoric pals will surely bring joy to all! Making free printable dinosaur valentine's day cards is an easy and affordable way for moms everywhere to add some extra fun into the celebration this year. So what are you waiting for? Get started today!
Free Printable Dinosaur Valentine's Day Cards
Do your kids love dinosaurs just as much as they love Valentine's Day? Let them combine the two with some creative and fun dinosaur Valentine's Day cards! Get ready to spread some dino love this season in the most unique way with these fun dinosaur themed Valentine's Day cards!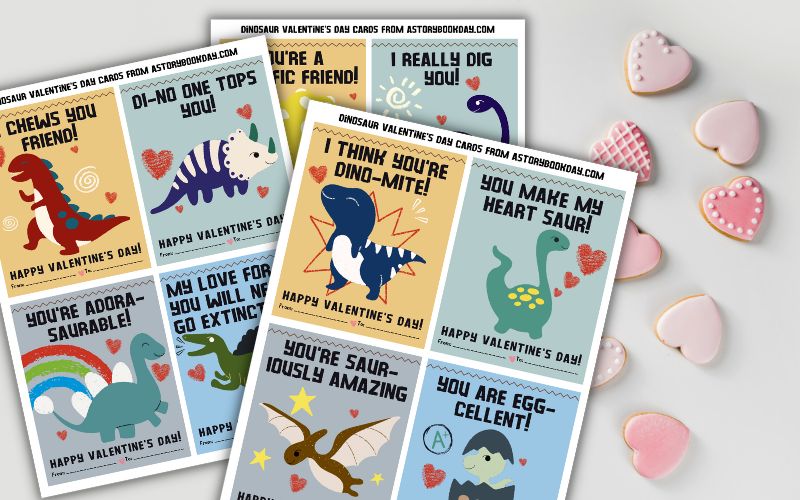 How to Download
Just click on the button below and you'll be taken to the download page. Have fun!
More Valentine's Day Ideas