Fun Reading Bingo Game for Kids + Bookmarks | Free Printable
As a mom, I'm always looking for ways to get my kids to read more. I want them to develop a love for reading that will last a lifetime. I'm so excited to share my free printable reading bingo game for kids with you! Not only is it a fun way to get kids excited about reading, but this free printable also comes with bookmarks that feature reading strategies for kids. Check it out below!
Why Reading is so Important for Kids
Reading is essential for success in school and in life. It helps to develop critical thinking skills, improves vocabulary and concentration, and fosters a love of learning. Additionally, reading has been shown to reduce stress, improve sleep, and boost mental well-being. So not only is it important to encourage your kids to read, but it's also important for you to model good reading habits yourself!
Kids who learn to love reading often carry that love with them throughout their lives. Reading can provide a much-needed escape from the everyday, transport you to new and exciting places, and introduce you to interesting people and ideas. It's the perfect activity for rainy days, lazy Sundays, or any time you need a break from reality. So make sure to encourage your kids to pick up a book today!
How To Play The Reading Bingo Game
Playing the reading bingo game is simple! Just print out the bingo card and find books that match each of the categories. Once your child has read a book that meets one of the criteria, they can color in or mark off that space on their bingo card. The first person to get five in a row (across, down, or diagonally) is the winner!
How to Use the Reading Strategies Bookmark
Print the bookmark page onto card stock, fold in half, and glue to two halves together. I recommend laminating the bookmark for durability. You can adjust the size of the bookmark if desired by printing at a smaller scale – just change the print settings before hitting print!
This reading strategies bookmark features these strategies:
look at the picture
skip the word and come back
sound out the word
look for chunks or small words
go back and reread
say each sound in the word slowly
get your mouth ready for the first sound
Free Printable Reading Bingo Game
To help you get started, I've created a free printable reading bingo game that you can use with your kids. Just click on the button below to download the PDF. Then, print out the game board and bookmark, grab some of your child's favorite books, and you're all set!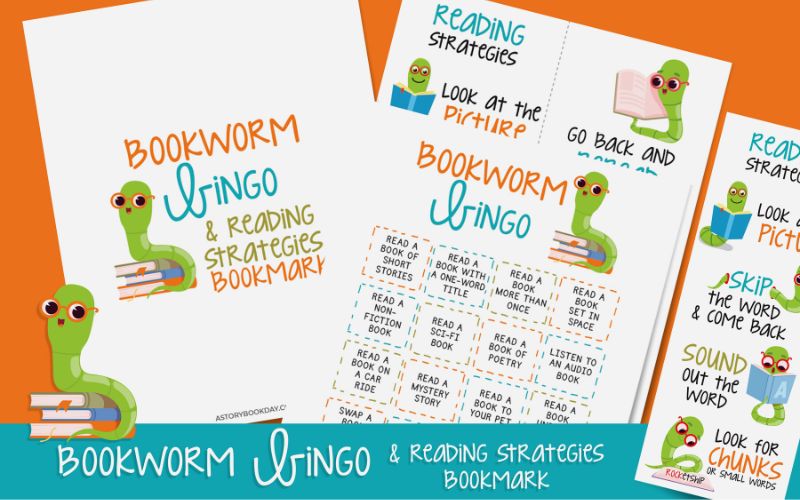 How to Download
Just click on the button below and you'll be taken to the download page.
Conclusion
I hope you and your kiddos enjoy playing this reading bingo game as much as my grandkids do! If you're looking for more ways to get your kids excited about reading, be sure to check out the resources below. Until next time, happy reading!
More Reading Resources for Kids