Funny Animal Valentine's Day Cards for Kids to Share
Looking for a fun way to help your kids celebrate Valentine's Day at school? I've created a free printable set of animal Valentine's Day cards that your kids can share with their friends. These cards are sure to make everyone laugh. Happy Valentine's Day!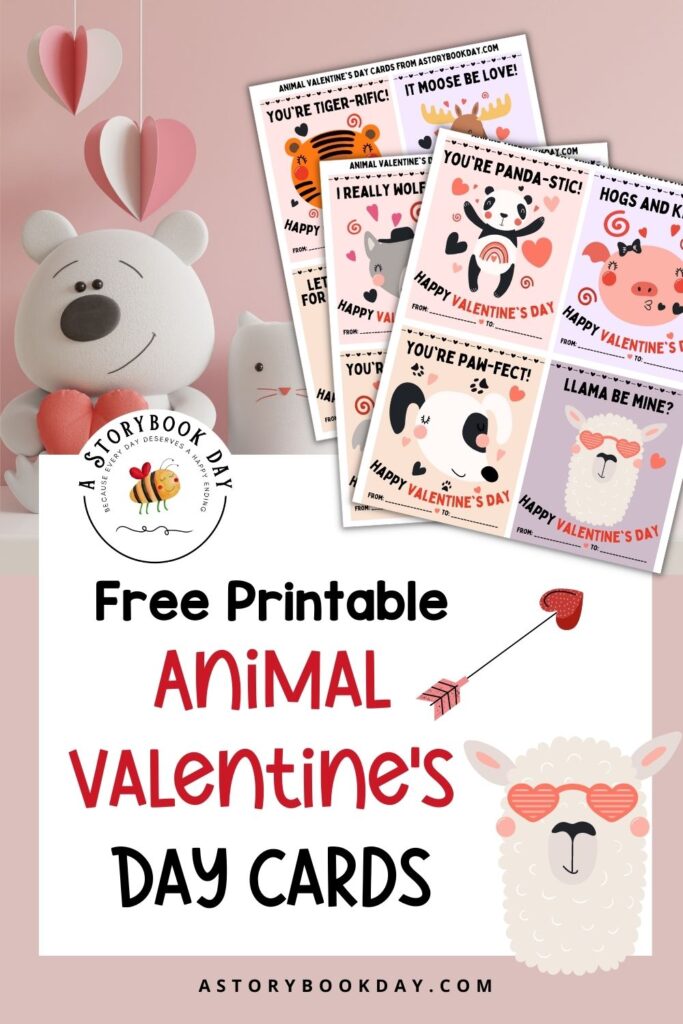 Valentine's Day is an occasion that always brings excitement and joy to kids. Every year, kids look forward to exchanging cards with their classmates at school and celebrating this day with special activities.
Whether they're exchanging homemade cards in the classroom or giving out fun valentines to their buddies, this special holiday is sure to bring smiles all around. And what better way to make sure everyone gets a valentine they'll love than with these funny animal valentines designed just for kids! 
In classrooms, it's a time of anticipation as kids eagerly wait their turn to pass around the cute cards they have prepared for this special day. It's a fun activity for everyone involved and an opportunity to connect with classmates in a way that wouldn't otherwise be possible.
Why Printable Cards Are Ideal
Printable cards are ideal because they allow them to be creative without the stress of finding unique cards at the store. Plus, it can be a fun activity that you can do together as a family.
You can make this Valentine's Day project as simple or as elaborate as you'd like; it all depends on how much time and energy you want to put into it. All you need is access to a printer and some paper!
In addition to being fun for kids, these cards are also incredibly convenient for parents. They can be printed out in minutes from any home printer and then cut into individual cards. That way you don't have to spend hours searching through stores or ordering customized cards online.
What You'll Receive
This set of Animal Valentine's Day Cards for kids feature:
12 different cards
funny puns
cute animals
The designs feature a variety of animal friends, including a llama, a tiger, a moose, and an elephant. Each card also has a fun phrase on it like "llama be mine?" or "You're tiger-rific!". 
Making It Special
You can also get creative with the way you package and present the cards to your children's friends. For example, if you're making multiple sets of cards featuring different animals, consider using colorful cellophane bags filled with matching candies or small toys. This will make them extra special and will be excited about handing out their valentines day gifts this year!
A Unique Way to Show Kindness and Appreciation
These printable valentine's cards are sure to bring a smile to everyone who receives them! Each card features an adorable animal illustration and fun message that captures the spirit of Valentine's Day. 
You can also customize the cards by adding your child's own special message or drawing on the back after printing them out.
Easy and Fun Craft Activity for Kids
Printing out these cards is a great activity for your kids to do together with you as part of their Valentine's Day celebrations. Not only will it give them a chance to express themselves creatively, but it will also provide some quality bonding time between you two. Once the cards are printed, you can even make an event out of cutting and decorating them with glitter, markers, or other craft supplies—the possibilities are endless!
Check With Your Child's Teach About Rules for Exchanging Cards
Valentine's Day is a special day of the year, and one fun activity celebrated by schools everywhere is giving out cards to classmates. However, many school districts have different rules and regulations in the classroom regarding these types of exchanges.
It is important to talk with your child's teacher beforehand to make sure you understand their expectations and know what type of Valentine's card exchange would be allowed in class. Knowing the school's policy on this will help ensure that everyone can enjoy exchanging cards with their friends on Valentine's Day!
How to Use these Animal Valentine's Day Cards
Download the .pdf file – you'll receive three pages with 12 different card designs.
Print cards onto heavy card stock paper.
Cut out each design. 
Personalize the cards as desired. 
Add toys or candy with tape or put them inside cellophane bags and tie with ribbon. 
More Ideas for Valentine's Day
Conclusion
This Valentines Day season, why not give your little ones the gift of crafting with our free printable set of cute animal valentine's day cards? It's an easy way to spread some joy while saving yourself time and money in the process! So grab your printer and get ready to bring smiles all around this February 14th with these adorable animal-themed valentines! Happy Crafting!
Free Printable Animal Valentine's Day Cards
If you are looking for an easy, affordable, and fun way to celebrate with your kids, why not use a set of free printable animal valentine's day cards?
How to Download
Just click on the button below and you'll be taken to the download page.