A Fun Printable Dinosaur Puzzle Your Preschooler Will Love
Do you have a preschooler who loves dinosaurs? If so, I have the perfect printable dinosaur puzzle for your little one to play with! Puzzles are a great way to teach young children problem-solving and fine motor skills. Plus, they're just plain fun!
My grandson Aiden is currently in love with dinosaurs. He has this stuffed T-rex he carries around everywhere. It's so cute to see. Dinosaurs are fun for kids because they are these big, mysterious creatures. What kid doesn't love learning about something that is so different from them?
The puzzle is simple enough for a preschooler to do but still challenging enough to be fun. If your kids are anything like my grandson, they will love putting this puzzle together again and again.
This printable dinosaur puzzle is perfect for little ones who are just starting to work on puzzles. It has just a few pieces, so it's not too difficult. Your child will feel a sense of accomplishment when they put it together.
Puzzles are Educational
Puzzles are not only fun, but they're also educational! They help develop critical thinking and problem-solving skills. And they can also improve hand-eye coordination and fine motor skills. So not only will your child have fun with this printable dinosaur puzzle, but they'll also be learning!
Spending time doing puzzles with your child is a great way to bond and teach them important skills. So print out this dinosaur puzzle and watch your child have fun while they learn!
Books About Dinosaurs
Moms, did you know that reading to your toddler can help them develop skills they need for school? Reading aloud helps children learn new words, understand grammar and syntax, and develop a love of books. So what are you waiting for? Pick up a book and start reading!
:: You can find more dinosaur books, puzzles, toys, and games in my Amazon shop! ::
What's Included in this Free Printable Puzzle?
You'll receive a 4 page .pdf file that includes a cover page, and three fun dinosaur puzzles that are perfect for preschoolers.
How to Use this Printable Dinosaur Puzzle
To use this printable, simply download and print it out. Then, have your child put the puzzle together. If they need help, you can always give them a hint or two. But see if they can figure it out on their own first!
You have a few options for using this printable puzzle. To make it more durable after you print, you can:
print the puzzle on card stock
laminate the puzzle
glue the puzzle to a piece of cardboard
Once you've done one (or all!) of those things, your child can play with the puzzle over and over again.
I hope you enjoy this printable dinosaur puzzle with your preschooler. I hope you and your little one have fun with this printable dinosaur puzzle. If you do, be sure to share a picture with us on social media! Be sure to check out our other free printables while you're here!
Free Printable Dinosaur Puzzle
If you're looking for a fun way to keep your preschooler entertained, look no further than this printable dinosaur puzzle! It's perfect for rainy days or long car rides. Best of all, it's free to download and easy to print. So go ahead and give it a try!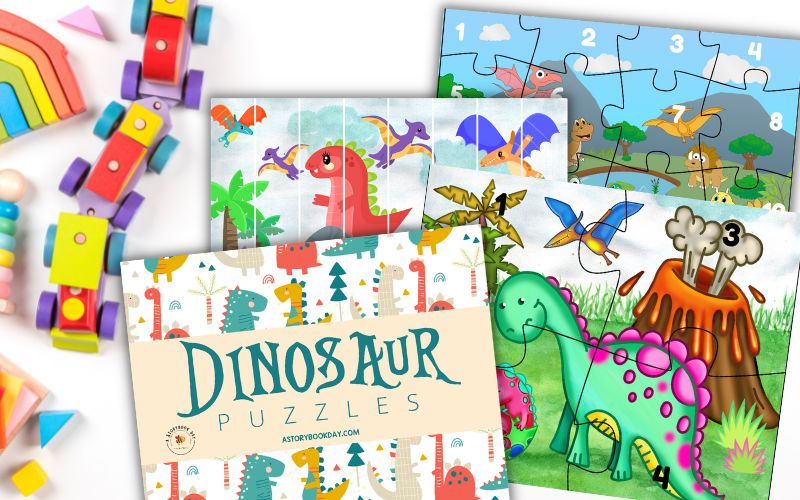 How to Download
Just fill out the form below and you'll receive an email giving you instant access to this free printable. If you are already a subscriber, filling out the form won't affect your subscription, but you will receive the link to get the printable!Why should I subscribe?
access to my subscriber exclusive resource library
exclusive coupons and sales to my shop
updates, challenges, freebies, and exclusive offers
instant access to subscriber exclusive printables
More Dinosaur Printables