Free Positive Affirmation Cards for Kids: Help Build Their Self Esteem!
Are you looking for a fun way to help your child develop a positive mindset? Check out our new printable set of positive affirmation cards for kids! These affirmation cards for kids are designed to help your child feel good about themselves and build self-confidence.
The best part is that these cards are free to download and easy to use. Just print them out and start using them today!
Do you want to help your child build a positive mindset? If so, today we are sharing a fun printable set of affirmation cards for kids! These cards are perfect for children of all ages, and they can be used to help encourage positive thinking and self-confidence. These cards are designed to be bright and colorful, with fun and inspiring messages.
16 Positive Affirmations for Kids
This set of printable cards features these positive affirmations for kids:
I am brave
I am a kind person
I am willing to learn
I have good ideas
I can learn from my mistakes
I am a problem solver
I can stand up for others
I am a good friend
I am creative
I can do hard things
I love trying new things
I always do my best
I have faith in myself
I am worth it
I am accepted
I can make a difference
What are affirmation cards for kids?
Affirmation cards are a fun and easy way to teach kids positive thinking. Designed for kids of all ages, affirmation cards feature friendly designs and encouraging messages.
By reading or listening to the affirmations, kids can learn how to stay positive in the face of challenges. Affirmation cards can also be used as a tool for dealing with anxiety or negative thinking. By using the cards regularly, kids can train their brains to focus on the positive.
In addition, affirmation cards can be a great way to start conversations about emotions and healthy coping mechanisms. Whether used at home or in the classroom, affirmation cards are a valuable tool for teaching kids how to think positively.
How to Use Affirmation Cards with Kids
Affirmation cards are a great way to help kids build self-esteem and confidence. They can be used in a variety of ways, but here are a few suggestions to get you started.
One way to use affirmation cards is to have each child pick one out each day. They can then read the affirmation aloud and think about how it applies to their day.
Another way to use them is to put all of the cards in a jar, and let each child choose one whenever they need a pick-me-up.
You can also tape the affirmations around the house or classroom where they will serve as reminders throughout the day.
Whichever way you choose to use them, affirmation cards are a great tool for helping kids build a positive mindset. So why not give them a try today? You may be surprised at how much of a difference they can make!
More Printable Affirmation Cards for Kids
Free Printable Affirmation Cards for Kids
These free printable affirmation cards are filled with inspiring messages that will help kids feel good about themselves.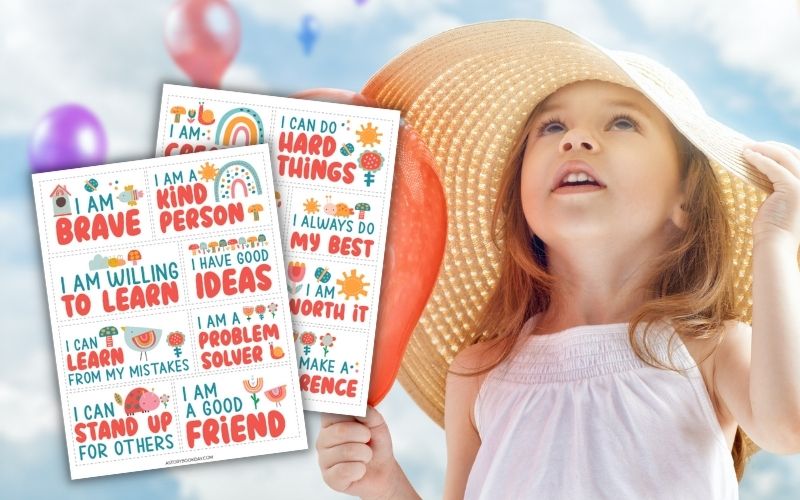 How to Download
Just fill out the form below and you'll receive an email giving you instant access to this free printable. If you are already a subscriber, filling out the form won't affect your subscription, but you will receive the link to get the printable!Why should I subscribe?
access to my subscriber exclusive resource library
exclusive coupons and sales to my shop
updates, challenges, freebies, and exclusive offers
instant access to subscriber exclusive printables
I hope you enjoy this fun printable set of positive affirmation cards for kids! If you use them, please let me know how they work out for you and your little ones. And be sure to share this post with your friends by using the buttons below!
More Self Esteem Resources for Kids