Free Printable: Apple Tree I Spy Worksheet for Kids
Engage your little ones in an exciting world of discovery with my free printable Apple Tree I Spy worksheet. This interactive activity sharpens observational skills and fosters counting abilities —all while having fun! This free printable is part of my series of apple tree worksheets for kids!
Are you looking for a fun and educational activity to engage your little ones? Look no further! This free printable Apple Tree I Spy worksheet is a fun way to combine the joy of searching and learning for kids. Packed with simple illustrations, this interactive worksheet is designed to enhance observational skills, counting abilities, and color recognition.
The Apple Tree I Spy worksheet features a simple illustrated apple tree, complete with a variety of hidden objects – apples, birds, and leaves.
In today's digital age, where screen time dominates, it's essential to provide kids with activities that promote tactile engagement. This printable Apple Tree I Spy game encourages hands-on learning, allowing children to have fun while learning and enjoy the excitement of discovery.
Different Ways to Use the Worksheet:
Classic I Spy Game: Children can search for the items listed on the worksheet, circling or crossing them off as they find them. This game fosters attentiveness and builds perseverance.
Counting Practice: The worksheet provides an opportunity for kids to practice counting. Encourage them to count the number of apples, birds, or any other object they find. This activity enhances their numeracy skills while making learning enjoyable.
Color Recognition: Have your child color the leaves green, birds blue, and apples red.
Who is this Worksheet Good For?
Preschoolers and kindergarteners: This worksheet is an excellent tool for introducing young children to the concept of I Spy while promoting their cognitive development.
Homeschooling families: Incorporate this worksheet into your curriculum to engage your children in a fun and interactive learning experience.
Traveling families: Whether you're on a road trip or waiting at the airport, the Apple Tree I Spy worksheet is a convenient and entertaining activity to keep little ones engaged.
Teachers and educators: This worksheet can be used as a classroom activity or a take-home assignment to reinforce observation, counting, and vocabulary skills.
Letter of the Week or Letter A Activities: This worksheet makes a great addition to your Letter of the Week Activities in your home or classroom.
Johnny Appleseed Unit: This worksheet would also make a fun addition to your Johnny Apple Seed Unit Study.
Apple Tree I Spy
This worksheet is simply illustrated. You can have your child color the worksheet in addition to counting the objects for even more fun!
Why is this Worksheet Fun and Educational for Kids?
Enhances Observation Skills: Children are encouraged to carefully examine the details of the apple tree illustration, training their eyes to be more attentive and detail-oriented.
Develops Counting Abilities: By counting the objects they find, kids practice their counting skills and reinforce number recognition.
Fosters Focus and Concentration: The challenge of finding specific objects within a visually busy scene encourages children to concentrate and persist, building essential skills for academic success.
Free Printable Apple Tree "I Spy" Game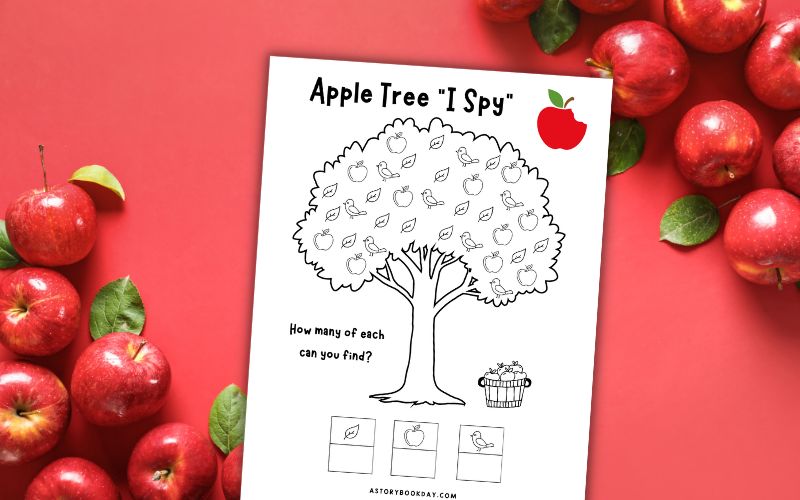 How to Download
Just click on the button below and you'll be taken to the download page.
I hope you enjoy using this Apple Tree "I Spy" worksheet in your home or classroom!
More Apple Tree Printables