Pancake Day Fun: Free Printable Activity Placemat for Kids
Happy Pancake Day! What better way to celebrate than by making some delicious pancakes with your kids? We've got a free printable Pancake Day activity placemat for you to use. The placemat includes a variety of activities, such as a word search, maze, and tic tac toe. It's perfect for keeping the kids entertained while you're cooking up a storm in the kitchen!
Are you looking for a fun activity to do with your kids on pancake day?
Pancake Day is coming up and if you're as excited as I am to celebrate this unique holiday, I have just the thing! This free printable placemat will keep your kids entertained while they're waiting for their pancake breakfast. They can color in the mat, play tic-tac-toe, color the pancakes, and more.
What is Pancake Day?
Pancake Day is a special day celebrated in many countries around the world. It's usually celebrated on or around Shrove Tuesday, which is the day before Ash Wednesday. Pancakes are a traditional food eaten on this day, hence the name Pancake Day.
In some countries, such as England and Ireland, Pancake Day is also known as Shrove Tuesday. This is because it was the last day to eat rich foods such as eggs and butter before the start of Lent.
Lent is a 40-day period of fasting and prayer that begins on Ash Wednesday. During Lent, many Christians give up certain things like sweets or alcohol.
So why not start the Lenten season by making some delicious pancakes with your kids? It's a great way to teach them about this important Christian holiday while also having some fun! And with our free printable placemat, it's easy and convenient. Simply download and print the placemat, and you're all set!
Learn more about Pancake Day: Everything You Need to Know About Pancake Day + Free Printables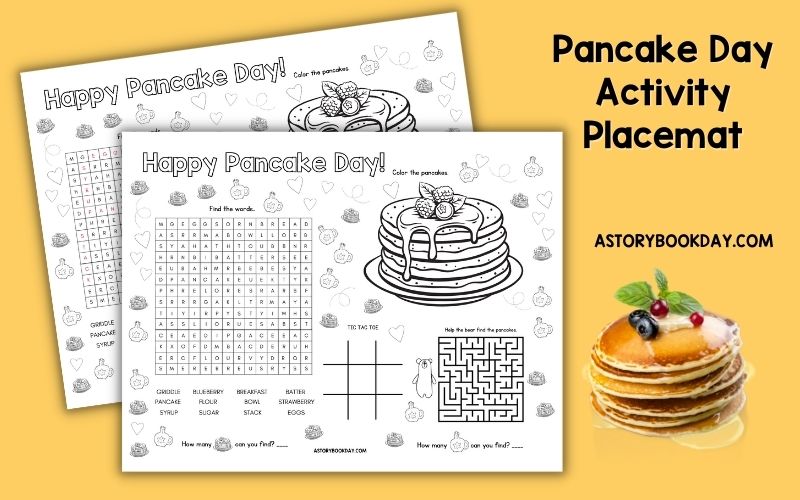 Free Printable Pancake Day Activity Placemat
This fun activity placemat includes:
2 page pdf
2 available sizes: 17″x11″ and 11″x8.5″
answer sheet
a stack of pancakes to color
word search with 12 words
count the pancake stacks
count the syrup bottles
tic tac toe
help the bear find the pancakes maze
How to Download
Just click the button below to download the size placemat you'd like to print.
Download: 17 x 11
Download: 11 x 8.5
This is a great way to keep the little ones occupied while you make pancakes. This Pancake Day activity placemat would also make a great addition to your pancake-themed party or pancake-themed unit study in your homeschool or classroom. Or, really just anytime you want to enjoy a stack of pancakes!
I hope you enjoy this printable pancake day activity placemat with your kids! Be sure to share it with your friends and family on social media using the buttons below.
Also, don't forget to check out our other free printables while you're here. Thanks for reading!
More Pancake Day Ideas: