Happy Affirmation Cards for Kids to Boost Their Self Esteem
Do you want to help your kids build a strong foundation for their self-esteem? If so, then you will love these happy affirmation cards for kids! These free printable affirmation cards are designed to help kids feel good about themselves and learn how to celebrate their character. Each card features a different positive affirmation, such as "I am loved," "I am kind," or "I am valuable."
Print them out and keep them in your child's backpack, locker, or bedroom as a daily reminder of their awesomeness!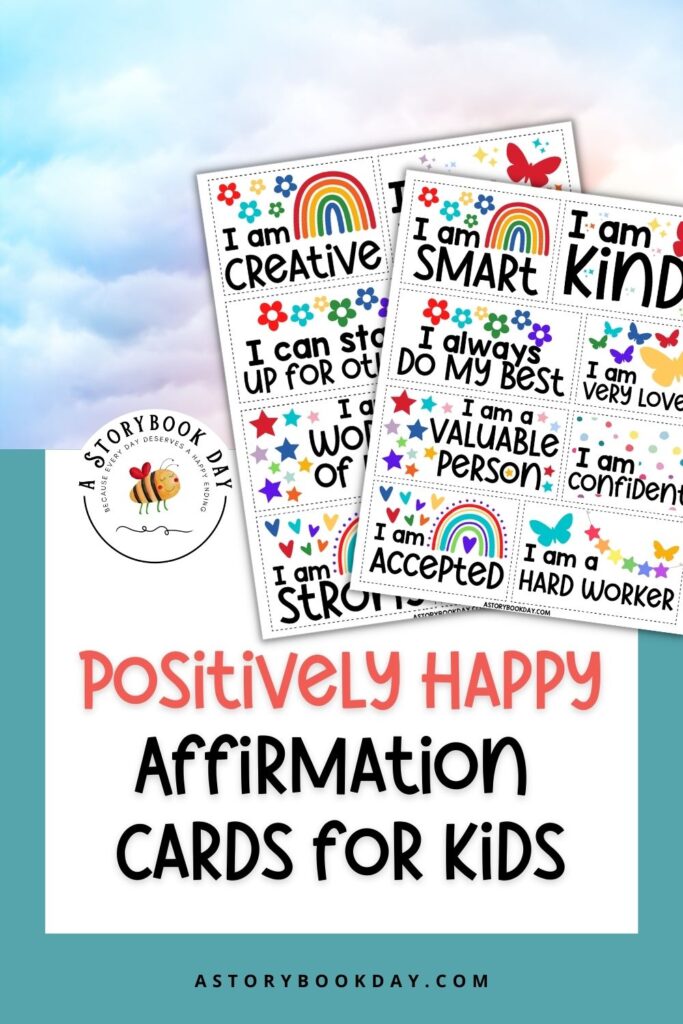 Bursting with color, these happy affirmation cards for kids are sure to make any child smile. With messages like "I am loved," and "I am hard working," these cards will help boost your child's self esteem.
How to Use These Happy Affirmation Cards
Print them out on thick card stock for durability. You can laminate them if desired for even more durability.
These vibrant cards are perfect for giving as a gift to your child or just for keeping on hand to give out during moments of encouragement.
Give your child a boost of self-esteem today with these cheerful affirmation cards!
Why Affirmation Cards Help Build Self Esteem
Affirmation cards help build self esteem because they provide positive reinforcement. They also help kids to focus on the good things about themselves, rather than the negative.
When children read affirmation cards regularly, they start to internalize the positive messages and begin to believe them. This helps boost their self esteem and gives them the confidence they need to succeed in life.
So, if you're looking for a way to help your child build their self esteem, then be sure to check out these happy affirmation cards! They are sure to put a smile on your child's face and help them feel good about themselves.
Different Ways to Use Affirmation Cards for Kids
There are many different ways that you can use affirmation cards for kids. Here are just a few ideas:
Put them in your child's backpack or lunch box
Give them out during moments of encouragement
Use them as part of a daily ritual, such as reading them before bedtime
Play games with them, such as memory or matching
Use them as part of a behavior chart to reward good behavior
No matter how you choose to use them, these happy affirmation cards for kids are sure to help boost your child's self-esteem.
Self-Esteem Building Ideas
16 Positively Happy Affirmations for Kids
This set of happy affirmation cards for kids features these 16 affirmation phrases that kids can read and repeat to themselves.
I am smart
I am kind
I always do my best
I am loved
I am a valuable person
I am confident
I am accepted
I am a hard worker
I am creative
I am brave
I can stand up for others
I am one of a kind
I am worthy of love
I am responsible
I am strong
I am a good friend
Mental Health in Kids is Important
Self-esteem is an important part of a child's mental health. It helps them to feel good about themselves and their abilities. When kids have healthy self-esteem, they are more likely to succeed in school, make friends, and be happy overall.
Tips for Building Self Esteem in Kids
There are many things you can do to help your child build their self-esteem. Here are a few tips:
Encourage your child and compliment their character and abilities often.
Help them to set realistic goals and then celebrate when they reach them.
Teach them how to deal with failure in a healthy way.
Encourage them to try new things and to be their own person.
Make sure they have plenty of opportunities to succeed.
Be a good role model yourself by having healthy self-esteem.
If you follow these tips, you can help your child build a strong foundation for their self-esteem. And, these happy affirmations cards are a great tool to help with that! So, be sure to check them out and give them a try. Your child will love them!
More Affirmation Cards for Kids
I hope you enjoy using these printable affirmation cards with your kids and that the fun designs bring a smile to your day.
Be sure to share this post with your friends and family using the buttons below – especially if you think they could use some positive affirmation in their lives.
Do you have any tips for building self-esteem in kids? I'd love to hear your thoughts in the comments below.
Free Printable Happy Affirmation Cards for Kids
There's no question that kids need to hear words of encouragement and love in order to boost their self-esteem. These happy affirmation cards are the perfect way to do just that! With cute animals and fun designs, these cards will make your child smile while they read them.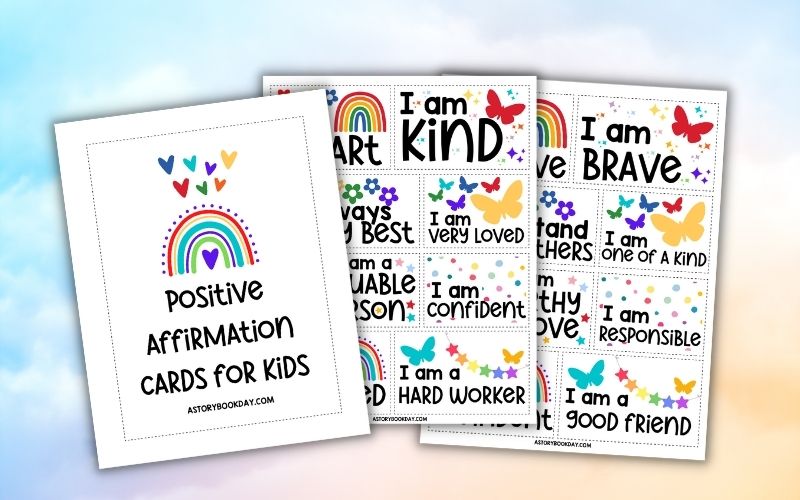 How to Download
Just fill out the form below and you'll receive an email giving you instant access to this free printable. If you are already a subscriber, filling out the form won't affect your subscription, but you will receive the link to get the printable!Why should I subscribe?
access to my subscriber exclusive resource library
exclusive coupons and sales to my shop
updates, challenges, freebies, and exclusive offers
instant access to subscriber exclusive printables
More Self Esteem Resources for Kids