Fall Reading Challenge for Moms and Kids
As a homeschooling mom, one of my goals was to instill a love for reading in my kids. I think I was pretty successful! They all love to read. Today I'm sharing a fun free printable Fall Reading Challenge for Moms & Kids. I hope you enjoy these printables!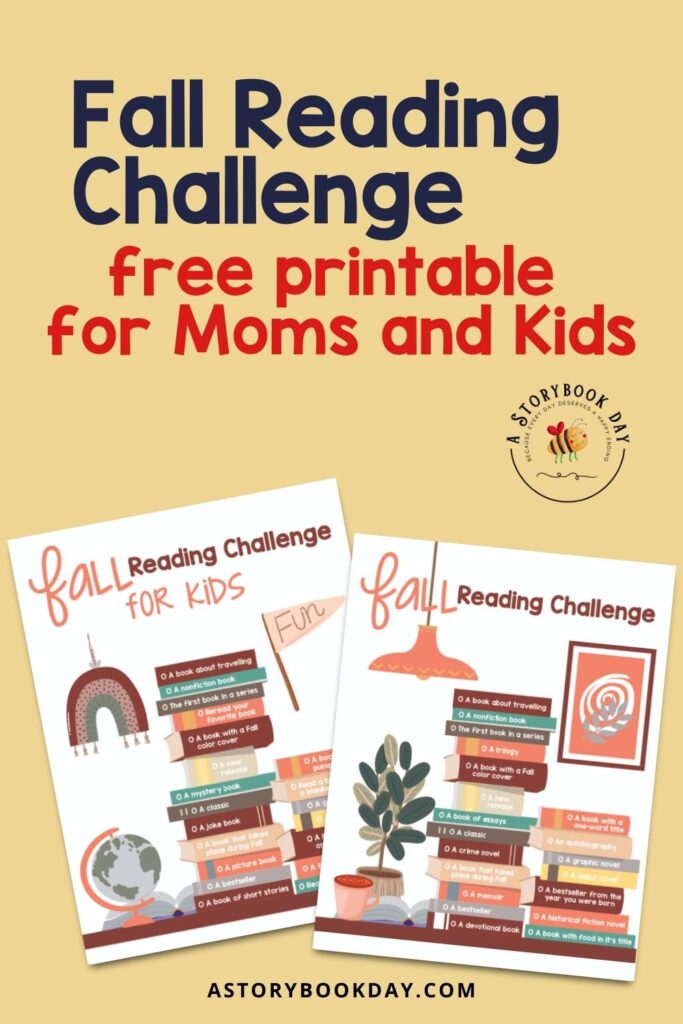 When my kids were little I loved reading stories to them. Reading to your kids expands their imagination, educates, and broadens their minds. Some of my favorite memories were sitting or snuggling together and reading.
You may find your child wants to read the same story over and over again – and that's normal! I even remember as a little girl asking my mom to read this book to me over and over again. I loved it!
According to this study, children who read are more successful than those who don't.
"The last 30 years of reading research confirms this simple formula—regardless of sex,
race, nationality, or socioeconomic background—students who read the most, read the best, achieve the most, and stay in school the longest. Conversely, those who don't read much, cannot get better at it." – Jim Trelease
But reading as an adult can also be very enjoyable. These days I tend to read self improvement books, books on productivity, or religious books. And when I come across a novel that interests me, I love a good story!
Fall Reading Challenge for Moms and Kids
It's important to choose well when choosing books to read. Remember that what we feed our minds with is very important and the Bible has a lot to say about that!
"Do not be conformed to this world, but be transformed by the renewal of your mind, that by testing you may discern what is the will of God, what is good and acceptable and perfect." Romans 12:2 ESV
The library is such a wonderful resource for families to utilize and I encourage you to see what your local library has to offer. Did you know you can download the Libby app and check out digital books and audiobooks for free?
I've really been enjoying this free app. We love to listen to audiobooks in the car and my girls use the app on their phones.
Curling up with a good book – perhaps by the fire with a warm blanket and a cup of hot chocolate – just seems like one of the perks of cozy homemaking. Don't you think?
Download my free printable Fall Reading Challenge and use it for yourself and/ or with your kids. You'll find a color version and a black and white version that you can color. See how many books you can read this fall!
Free Printable Reading Challenge
There are two versions of this reading challenge available: full color and black & white.
How to Download
Just click on the button below and you'll be taken to the download page.
Full Color Version
Black and White Version
Fall is a great time to cozy up with a good book, and we hope this printable reading challenge will help get you and your kids excited about reading. I had so much fun putting it together, and can't wait to hear about all of the amazing books you read this season.
More Reading Challenges