Free Printable Pick-a-Prize Reading Challenge for Kids
Do you want to encourage your child to read more? Here's a fun way to do it! I've created this fun free printable pick-a-prize reading challenge that allows kids to pick their own prize for completing the task. This is a great way to keep them motivated and excited about reading.
Do your kids love to read? Mine do, and I love that! I also love to find fun reading challenges for them to do.
Pick a Prize Reading Challenge for Kids
Depending on how many books they read, they can choose from a variety of prizes like an ice cream cone, new book, or a late bedtime! Who doesn't want one of those?
I've also included a blank reading challenge page so you can choose your own prizes if you'd rather do that.
Why is reading important for kids?
Reading helps kids in so many ways. It develops their imagination, improves their language skills, and increases their knowledge.
It's also a great way for them to bond with you. Spend some time reading together every day, and you'll be creating lasting memories that they'll cherish forever.
How are reading challenges good for kids?
Reading challenges are a great way to get kids excited about reading. Whether they're reading chapter books for 2nd graders or reading picture books, they can see their progress, set goals, and earn rewards.
How to Use this Reading Challenge:
Print out the challenge pages.
Challenge your kids to read for the amount of time listed on each color and then mark the chart when done.
When they've accumulated at least 50 points they get to pick a prize from the list (or come up with your own).
This Reading Challenge for Kids features:
30 minutes Extra Screen time
Skip a Chore
Family Movie Time Your Choice
Date with Mom
Date with Dad
Invite friends for a sleepover
Visit a nearby park
Your favorite dish for dinner
Ice cream day
$2 cash
Stay up past bedtime
Buy something from Amazon
Your request
1 hour tv time
$7 cash
No chores for an entire day
Plus, as I mentioned above, I included a blank prize chart in case you'd rather come up with your own prizes!
Free Printable Pick Your Own Prize Reading Challenge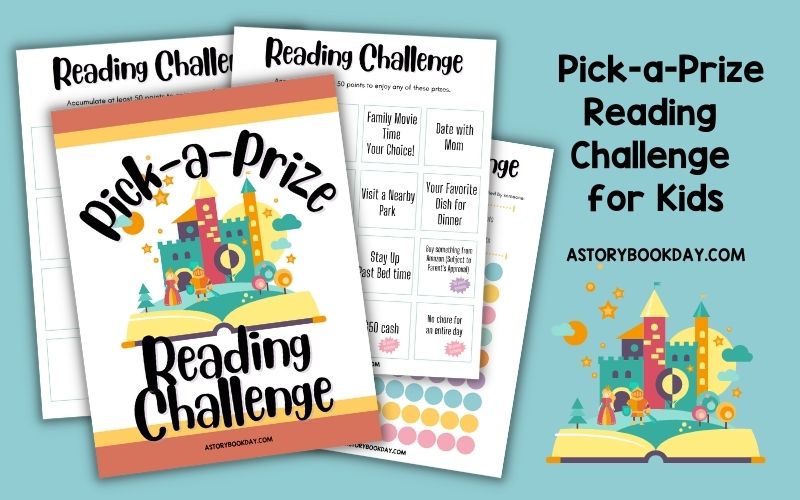 How to Download
Just click the button below and you'll be taken to the download page.
I hope you and your children enjoy trying out this new reading challenge. Be sure to share this post with your friends on social media so they can try it out, too. And don't forget to check back soon for more fun learning activities for kids.
More Reading Challenges