A Sweet, Handmade Penguin Card Kids Can Make for Mother's Day!
Mother's Day is just around the corner, and we have the perfect Mother's Day craft project for kids! This sweet, handmade penguin card for Mother's Day will make mom smile on her special day. All you need is some construction paper, a few basic supplies, and a little bit of creativity. I'll show you how to put it all together step-by-step. So get ready to show mom how much you care with this adorable penguin craft!
Be sure to download the free printable template at the bottom of the post!
Have the kids make this sweet penguin craft project for Mother's Day! It is easy and fun for them to do, and Mom will love the finished product. Plus, it is a great way for kids to show their appreciation for everything she does.
Crafting allows children to engage their imagination and creativity while also learning important practical skills. Whether they're working with a set of precut craft materials or taking the time to sketch their own designs, kids have lots of options when it comes to crafting.
Furthermore, making crafts encourages connection and collaboration, as children can discuss ideas and problem-solve together. Ultimately, crafting is just one more way that parents can nurture their children's development and help them grow into creative, confident adults.
Penguin Card for Mother's Day
This sweet penguin card features a momma penguin and a baby penguin hugging. It's so sweet and you can embellish is any way you like! Be sure to write a sweet message to your mom inside the card!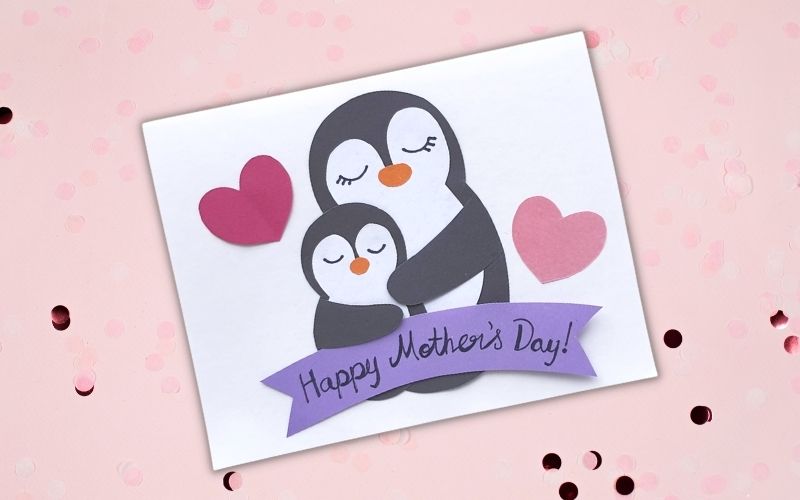 Handmade Cards Make a Great Gift for Mother's Day
Crafty kids will love making this homemade penguin card for mother's day. It's a perfect way to show mom how much she is loved, and it's sure to bring a smile to her face. best of all, it's easy to make with just a few supplies.
This card is great for older kids, teens – and adults might enjoy making it too!
List of Supplies
Colored craft papers
Cardstock paper
Sharpie
Craft glue
Pencil
Scissors
How to Make this Handmade Penguin Card for Mother's Day
Step 1. Select colored craft papers for the penguin patterns and the label. Trace the body patterns, wing patterns on black or gray paper, the beaks on orange paper and the inner body patterns on white or cream craft paper. Trace the label patterns on colored craft paper of your choice. Cut out the traced patterns nicely.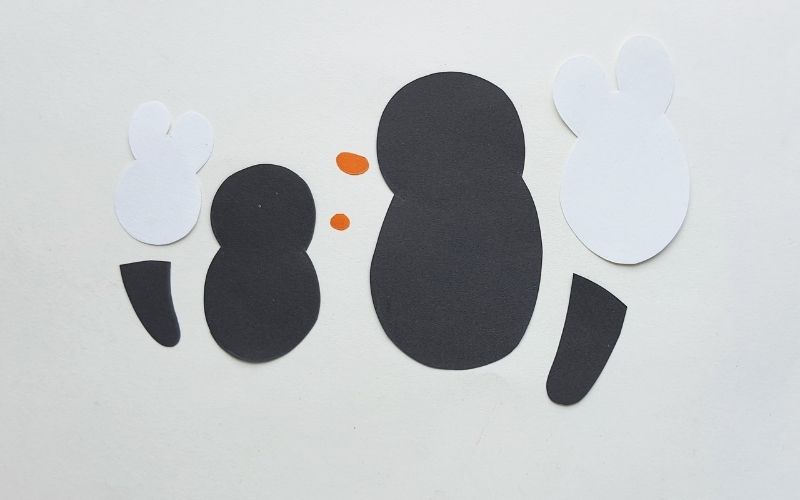 Step 2. Attach the inner body cutouts on the main body cutouts.
Step 3. Attach the beak cutouts near the top part of the inner body pattern, between the 2 semi-circular ends.
Step 4. Attach the big wing cutout on the right side of the mother penguin pattern and attach the small wing cutout on the left side of the child penguin pattern. Use a sharpie to draw the eyes of the papercraft penguin patterns.
Step 5. Prepare the card from a cardstock paper. Make sure that the card is big enough to add the 2 penguins as well as the label.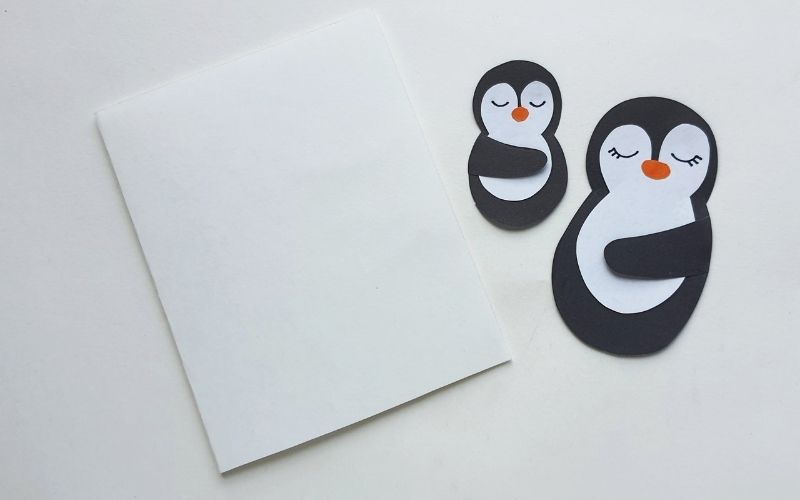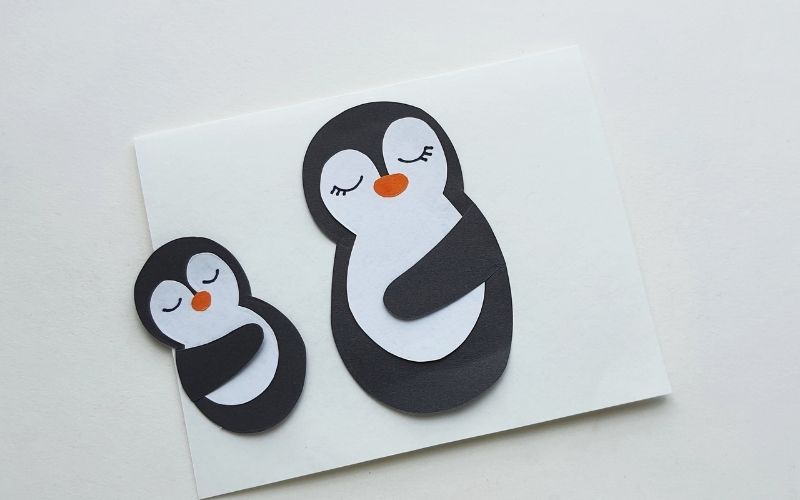 Step 6. Attach the papercraft mother penguin near the middle part of the card.
Step 7. Attach the papercraft child penguin adjacent to the mother penguin, on the left side. The mother penguin's wing should slightly overlap the child penguin pattern.
Step 8. Write down the message on the label and attach it along the bottom side of the papercraft penguins, on the card.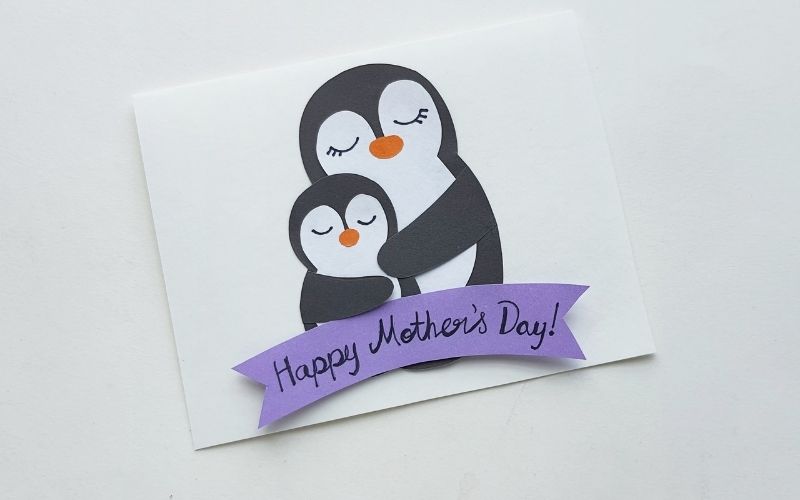 I hope you enjoyed this fun penguin craft project for kids. Be sure to check out some of our other Mother's Day crafts too! If you make this project, we would love to see it – share it with us on Facebook or Twitter. And don't forget to use the buttons below to share this post with your friends and family. Happy crafting!
More Mother's Day Craft Ideas
Free Printable Penguin Card Template
This free printable template makes it simple and easy to create a one-of-a-kind card that mom or grandma is sure to love. So download the template today, and get crafting!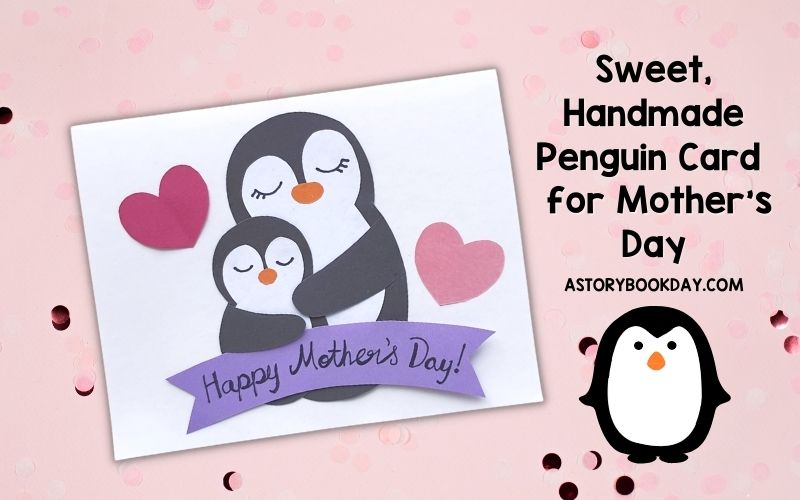 How to Download
Just fill out the form below and you'll receive an email giving you instant access to this free printable. If you are already a subscriber, filling out the form won't affect your subscription, but you will receive the link to get the printable!Why should I subscribe?
access to my subscriber exclusive resource library
exclusive coupons and sales to my shop
updates, challenges, freebies, and exclusive offers
instant access to subscriber exclusive printables
More Printable Activities for Kids