Print this Fun Robot Coloring Page for Kids!
Whether your child is a budding Picasso or just loves to dabble in colors, this activity is guaranteed to capture their imagination and keep them engaged. Dive in and explore the benefits and fun times that await with this fun printable robot coloring page for kids.
As parents, we are always on the lookout for activities that are not just fun but also enriching for our children. We know how important it is to nurture their creativity and provide them with opportunities to express themselves. That's why we are thrilled to share our latest resource: a free printable robot coloring page kids will love!
Why This Robot Coloring Page is a Must-Try
1. Sparks Imagination
The intricately designed robot features various shapes, patterns, and parts that will captivate your child's attention. As they select colors and fill in the details, they will have the opportunity to imagine the world this robot might inhabit. Is it a friendly robot helping humans, or perhaps a space-exploring android? The possibilities are endless, and it's all up to your child's imagination!
2. Encourages Fine Motor Skills
Coloring requires precision and coordination, making it a fantastic activity for developing fine motor skills. As children grip their coloring tools and work on staying within the lines, they are honing their dexterity and hand-eye coordination.
3. Provides a Calming Activity
Life can be busy and sometimes overwhelming, even for kids. Coloring has been shown to have a calming effect, providing a quiet and meditative activity that can help reduce stress and promote a sense of well-being.
4. Promotes Focus and Concentration
Completing a coloring page requires a level of focus and concentration. This mindful activity can help children develop their ability to pay attention and concentrate on a task, skills that are beneficial in all areas of life.
5. It's Just Plain Fun!
Above all, coloring is a fun and enjoyable activity. Kids love the chance to be creative, play with colors, and create something beautiful.
When and Where to Use This Coloring Page
Quiet Time: Perfect for winding down after a busy day or as a calm activity before bed.
On the Go: Print a few copies to bring along on car trips, waiting rooms, or any other time when a quiet activity is needed.
Playdates: A great activity for a group of kids. Simply print out enough copies for everyone and let them enjoy coloring together.
Educational Settings: Teachers and caregivers can use this coloring page as a fun and educational resource in the classroom or daycare.
Why Kids Love Creative Coloring
Creative coloring activities like this robot coloring page allow children to express themselves and make choices about colors and details. This sense of autonomy is empowering and boosts their confidence. Additionally, the act of creating something visually appealing is rewarding and provides a sense of accomplishment.
More Coloring Pages
Do your kids love robots?
Free Printable Robot Coloring Page for Kids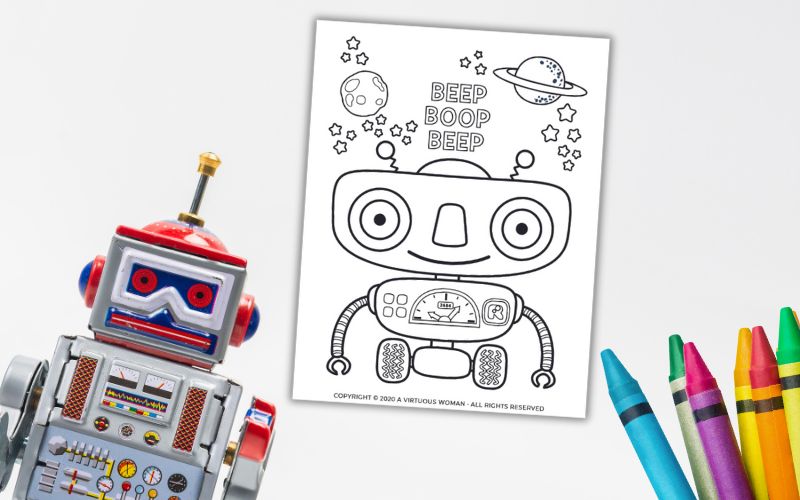 How to Download
Just click on the button below and you'll be taken to the download page.
Conclusion
Our free printable robot coloring page is more than just a fun activity; it's a tool for learning, development, and self-expression. So, go ahead and hit print, grab those crayons, and watch as your child embarks on a coloring adventure filled with creativity, imagination, and fun! Happy coloring!