Super Easy Kindergarten Lunch Ideas for Picky Eaters
If you have a kindergartner who is a picky eater, you know how challenging it can be to come up with new and interesting lunch ideas. Not only do you need something that is healthy and filling, but you also need something your child will actually eat! In this blog post, I'm sharing some of my favorite kindergarten lunch ideas for picky eaters. From sandwiches to parfaits to soup and more, I've got you covered!
Be sure to download my free printable lunch box notes at the bottom of the post!
If your kindergartener is a picky eater, packing their lunch can be a challenge. But with some creativity and planning, you can come up with a menu that they'll love!
It's a lot easier to pack your child's lunch every day if you keep things simple. If you ever get into a rut, if you run out of ideas, or if you want to let your kids share their own ideas about what sounds yummy to them.
16 Kindergarten Lunch Ideas for Picky Eaters
The following ideas are all easy to make and don't require any cooking.
1. Antipasto Skewers: These skewers are made with salami, mozzarella balls, pepperoni, and cherry tomatoes.
2. Pinwheel Sandwiches: You can use any type of tortilla for pinwheels, spread with cream cheese, hummus, or even peanut butter, and top with your child's favorite fillings. Roll them up and slice into pinwheels.
related: Fun and Colorful Rainbow Tortilla Pinwheels Lunch Box for Kids
3. Fruit Salad: This salad is made with fresh fruit like strawberries, blueberries, and raspberries. Add some nuts and cheese and you've got a healthy lunch!
4. Cheese and Crackers: Cheese and crackers is a classic school lunch idea that's always popular with kids. Add some veggies with dip to round out the meal.
5. PBJ Sliders: These sliders are made with peanut butter and jelly on slider buns.
6. Salad Dippers: A lot of kids like to dip their food, so a salad with some chopped veggies, rotini pasta, and crackers along with a yummy dressing can be a great option. Just make sure to pack the dressing separately so nothing gets doesn't get soggy.
7. Cold Pasta Salad: This is another quick and easy option is a cold pasta salad. Just cook the pasta ahead of time and mix it with some diced vegetables, shredded cheese, and your child's favorite dressing.
8. Ants on a Log: Another great no-cook lunch idea that you can include in place of a traditional sandwich is what my mom always called "ants on a log." Just spread some peanut butter or cream cheese on celery sticks and top with raisins or other dried fruit.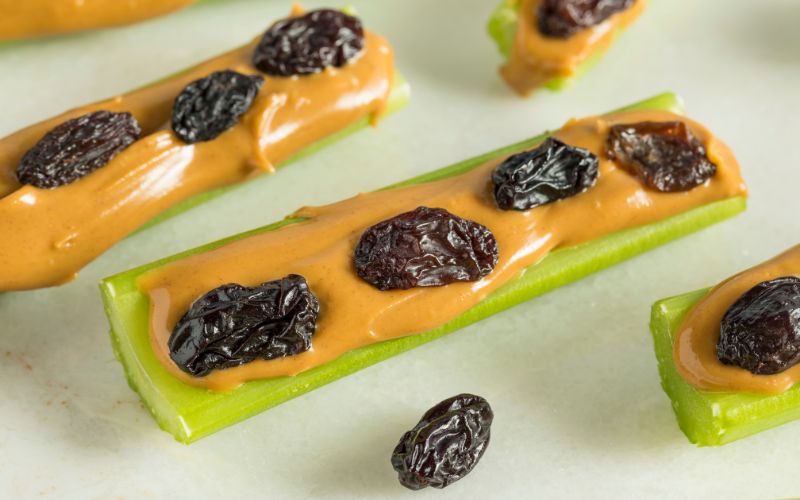 9. Yogurt Parfait: A yogurt parfait is a healthy and filling option for lunch. Just layer yogurt, fruit, and granola in a jar or container.
10. Soup in a Thermos: If it's cold outside, soup can be a warm and comforting lunch option. Just make sure to pack your child's favorite soup in a good thermos so it stays warm until lunchtime.
11. Graham Crackers with Peanut Butter and Raisins: Just break your graham crackers into squares and make a cracker "sandwich." Spread peanut butter on two cracker squares, add a few raisins to one of the sides and then sandwich them together.
12. Lunch Snack Box: This is a great option if your child likes to graze throughout the day. Just fill a small lunch box or container with their favorite snacks like pretzels, Goldfish crackers, grapes, hummus, dried fruit, boiled eggs, cheese cubes, and more.
13. Hard Boiled Eggs: Hard-boiled eggs are a great source of protein and they can be easily packed for lunch. Add some fruit, cheese, and nuts and you've got an easy, healthy lunch for your child.
14. Cold Pizza: This is a lunchbox classic! Just pack a slice or two of your child's favorite pizza in their lunch and they'll be all set.
15. Cottage Cheese and Peaches: Cottage cheese is a great source of protein. Add some canned peaches and it's a delicious lunch!
16. Leftovers: Don't forget that leftovers can make great lunches, too! If you have some extra chicken, macaroni and cheese, pasta, rice, or vegetables from dinner the night before, pack them up and send them along for lunch the next day.
Free Printable Lunch Box Notes
Looking for a way to add a little bit of extra love to your kids' school lunches? These free printable lunch box notes are perfect! They're simple, fun, and easy to use. Just print them out and slip them into your child's lunch box.
How to Download
Just fill out the form below and you'll receive an email giving you instant access to this free printable. If you are already a subscriber, filling out the form won't affect your subscription, but you will receive the link to get the printable!Why should I subscribe?
access to my subscriber exclusive resource library
exclusive coupons and sales to my shop
updates, challenges, freebies, and exclusive offers
instant access to subscriber exclusive printables
I hope you find these kindergarten lunch ideas for picky eaters helpful! Just remember to keep things simple and focus on foods that your child will actually eat. With a little planning and creativity, you can make sure that your child has a delicious and healthy lunch every day.
More Lunch Box Ideas