How to Draw Things Inside a Fire Station
Ready to unleash your child's inner artist and explore the thrilling world of firefighting through art? I'm sharing this fun free printable how to draw a fire station lesson that teaches kids how to draw different things you'll find around the fire station. Grab your drawing tools, and let's ignite the flames of creativity together!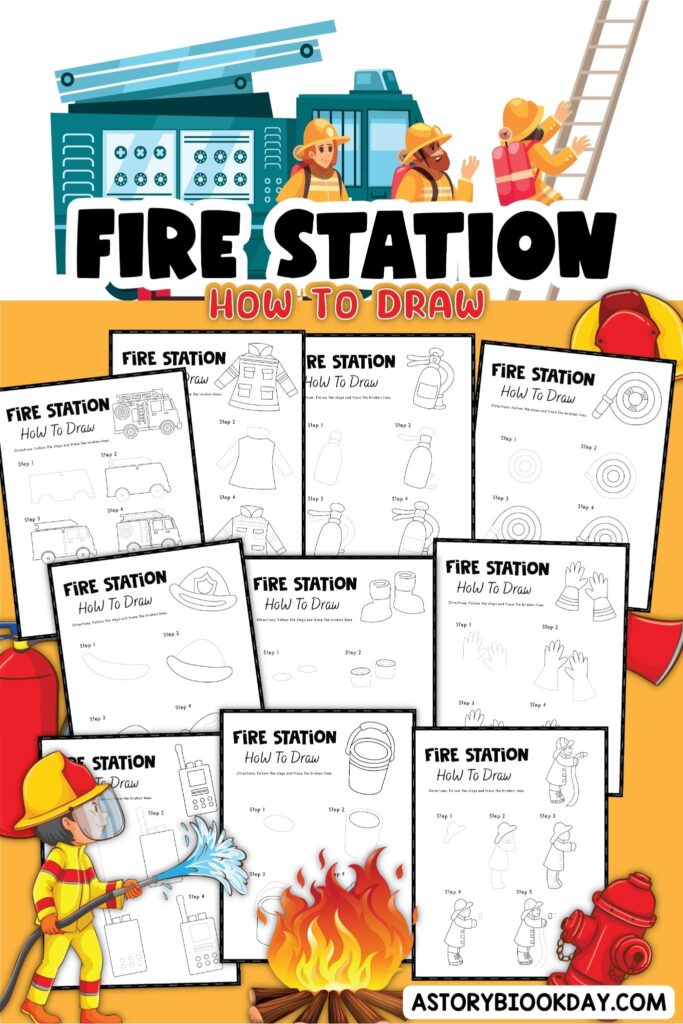 The magic of creativity knows no bounds, especially when it comes to the young and ever-curious minds of children. The world around them is an endless source of inspiration, and today, we're tapping into a theme that has fascinated many: the bustling environment of a fire station.
I'm excited to share my free printable how to draw a fire station that features different things you'll find around a fire station plus a heroic fire fighter.
---
How to Draw Things Inside a Fire Station
What's included:
You'll receive a 10 page .pdf to download and print.
This printable isn't just about a firetruck (although, let's admit, they're pretty cool!). We've encompassed various things around the fire station your child can learn to draw step by step:
The iconic Firetruck
Detailed Firefighter uniforms and their life-saving equipment
The fire hose
The fun and functional Fireman's bucket
A fun walkie-talkie
Why Drawing is a Good Activity for Kids:
1. Boosts Cognitive Development: Every stroke and choice of color aids memory and comprehension. Visualizing a fire truck or a fireman's helmet can be instrumental in enhancing problem-solving skills.
2. Enhances Motor Skills: The synchronization of the eyes and hands during drawing refines motor skills. Whether it's a fine line or a broad stroke, each movement counts.
3. Promotes Emotional Expression: Ever seen a child's drawing full of bold, vibrant colors or a stormy scene with dark hues? Drawing acts as a window to their emotions, allowing them to express themselves freely.
4. Encourages Creativity and Imagination: No two fire trucks drawn by different kids will look the same. This freedom to interpret and innovate prepares them for future challenges, teaching them there's always more than one solution.
5. Provides a Sense of Achievement: The gleaming pride in a child's eyes on completing their drawing is unmatched. It's not about perfection; it's about creation.
Who Can Use This 'How to Draw' Lesson:
1. Parents and Guardians: Transform a lazy afternoon or weekend into a burst of productivity and bonding. Sit down with your little ones and explore your artistic sides together.
2. Teachers and Educators: This printable can be a valuable addition to art classes or even subjects like community studies, showing the significance of firefighters.
3. After-school Clubs and Activity Centers: Host an art workshop or a community day celebrating our local heroes, and watch the children beam with enthusiasm.
4. Kids Themselves: For those self-starters and budding artists who just can't wait, this is a perfect self-paced learning tool. And for those little ones dreaming of firefighting, this brings them one step closer to their heroes.
Free Printable How to Draw Things Around a Fire Station
How to Download
Just click on the button below and you'll be taken to the download page.
Creativity is a journey, not a destination. So why wait? Download, print, and enjoy on this artistic adventure with your child. And don't forget, we'd absolutely love to see your masterpieces. Happy drawing!
More Fun Ideas for Kids