Fun Good Morning Sunshine Activity Placemat for Kids
Are you looking for a fun way to start the day with your kids? This good morning sunshine activity placemat is a fun way to start the day.
Today, I'm sharing a fun good morning, sunshine activity placemat that will keep your child entertained while they eat their breakfast. This placemat is filled with activities that will help get your child's day started off on the right foot. So, what are you waiting for? Download the placemat and get started!
Let's start your day with some sunshine! This fun activity placemat is perfect for a lazy Sunday morning with your kids or the morning after a slumber party. It's sure to get everyone up and feeling happy in the morning.
The cheerful designs and fun activities on this placemat are sure to put a smile on everyone's face.
Your kids are going to love this fun activity because they get to draw on their placemats before breakfast. They can use markers, crayons, colored pencils, and more! This is such a great way to start off your day with some creativity and fun.
Plus, we all know how much kids love drawing on things like paper towels and napkins – so why not give them something better than that?
Why Activity Placemats Are Fun for Kids:
They help with creative thinking – With all of the different designs, your child can let their imagination run wild.
They're educational – These placemats come with mazes, word games, and other activities that can help kids learn while they play.
They are great for family time – These placemats are the perfect way to spend some quality time with your kids.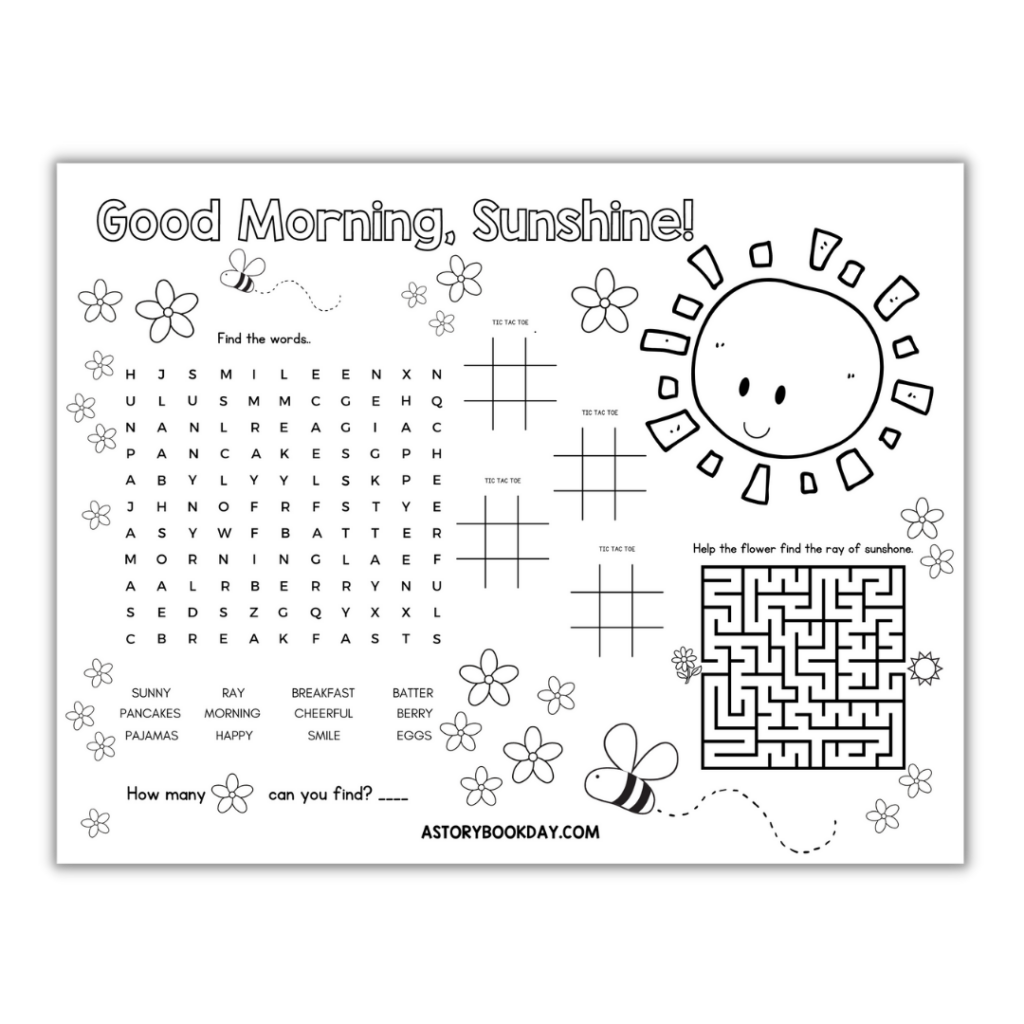 Ideas for Using this Activity Placemat:
breakfast with family and friends
pajama parts
sleepovers
birthday parties
holiday gatherings
family gatherings
homeschool
classrooms
after school
This Good Morning, Sunshine Activity Placemat features:
word search
tic tac toe games
how many flowers can you find
a cheery sunshine (and more) to color
Free Printable Good Morning, Sunshine Activity Placemat
This placemat is packed with fun activities and games that will keep your little ones entertained while they eat or wait for breakfast to finish cooking.
How to Download
Just click on the buttons below to download your free printable activity placemat. Two sizes available!
I hope you and your children enjoy using this fun activity placemat as part of your next special breakfast. Bright colors and a playful design make it perfect for getting everyone excited about the day ahead. Wishing you all a happy, healthy, and sunshine-filled day!