Your Kids will Love this Roll a Cupcake Game | Free Printable
Do you have a little baker at home? If so, I have the perfect game for them! This printable Roll a Cupcake Game (Build a Cupcake Game) is perfect for kids of all ages. It's simple to play and a lot of fun. To get started, just download the game board and cupcake pieces below. Then, print them out and get ready to have some fun!
Who doesn't love cupcakes? They're delicious, and a fun treat for kids and adults alike. Now you can enjoy a little bit of that fun with this printable build your own cupcake game! It's perfect for parties or rainy days when you need a little something to keep the kiddos occupied.
Games have always been a big part of our family life. When the kids were little, I used to play all sorts of fun board games with them. We would race to see who could build the tallest tower out of blocks, or see who could make the longest train out of our wooden railway set.
As they got older, we started playing more complex games like Monopoly and Scrabble. We would spend hours around the table laughing and joking as we tried to outwit each other.
Even now, the kids still love playing games with me when they come home from college. I think it's one of the things that keeps our family so close. Whenever we get together, we always find time for a few games – it's just a tradition that we all love!
This Roll a Cupcake (or Build a Cupcake Game) is ideal for children of all ages and is especially great for preschool kids. It's simple to set up and can be played alone or with multiple people.
How to Use this Roll a Cupcake Game
You'll need:
A printer
Paper or card stock
Scissors
Tape or glue
Cupcake game printables (download below)
First, print out the game board and cupcake pieces to set up the game. Print out one cupcake mat for each player.
Then, cut out all of the various cupcake pieces, toppers, and liners. This is also an excellent time to have your kids practice their scissor skills. Tape or glue the die together – or use regular dice from another game.
Note: I recommend printing on heavy card stock or laminating the cutout pieces for durability. This way the game will last!
Game Rules:
Decide who gets to go first.
The first roll decides the flavor of your cupcake.
Take turns in rolling a die.
First to finish decorating their cupcake wins.
Your cupcake is finished when it has :
a cupcake
a frosting
a liner
a topper or decoration
This Printable Roll a Cupcake Game for Kids comes with:
12 pages to print – PDF
1 cover page
rules page
1 Roll a Cupcake mat to build your cupcake on
1 cupcake flavor die key
5 cupcake flavors
5 frostings
1 frosting die key
5 different colored liners
1 cupcake liners die key
6 toppers or decorations
1 topper die key
1 printable die to assemble and use
This build a cupcake game is easy to play and uses rolling the die and following the instructions to help kids develop number recognition and subitizing.
When to Use this Roll a Cupcake Game for Kids
This cupcake game is perfect for kids of all ages! It's great for:
Birthday parties (use it as an activity or a party favor)
Family game night
Playdates with friends
A rainy day activity
A boredom buster
As a fun activity when baking yummy cupcakes to eat
Different Ways to Use this Roll a Cupcake Game
You can use this game in different ways depending on the age and ability of the child.
First to Build a Cupcake Wins:
In this version of the game, each player receives his or her own cupcake mat. There are two methods to play this competitive game:
#1 You'll need one die for each player. Everyone starts at the same time and builds the cupcakes as quickly as possible, rolling his or her own die and combining the pieces. The first person to assemble a complete cupcake will be the winner.
#2 The game is played with just one die and everyone takes turns rolling the die. This slows down the game and make it more easier for younger children to play.
It's important to know that in this scenario, "lose a turn" means the player gives up his or her chance to choose a cupcake part the next time the die is passed. The first one to finish his or her cupcake wins!
Books About Cupcakes for Kids
If you're looking for a sweet way to engage your child in reading, why not check out some of the best books about cupcakes? These books are perfect for use when baking cupcakes and playing the Build a Cupcake Game. These stories are sure to please any little cupcake lover. So get ready for some delicious fun!
How to Use this Roll a Cupcake Game in Your Homeschool
If you are looking for a fun way to incorporate some hands-on learning into your homeschool, this Roll a Cupcake Game is perfect! You can use it to help teach:
as part of a homeschool unit on cupcakes
Counting
Colors
Turn taking and following rules
Why Playing Games with Your Kids is Important
Playing games with your kids is a great way to spend time together and have some fun. But did you know that it is also important for their development? Games help children learn valuable skills like cooperation, communication, and problem-solving. So not only are they fun, but they're also helping your child grow and develop!
Taking time to have fun with your kids and enjoy being with them is so important. So go ahead and print out this fun Build a Cupcake Game and enjoy some quality time with your little ones.
Free Printable Build a Cupcake Game
Who can resist a delicious cupcake? Kids will love playing with these printable building blocks to create their own sweet treats! With this fun build a cupcake game, they'll be entertained all afternoon.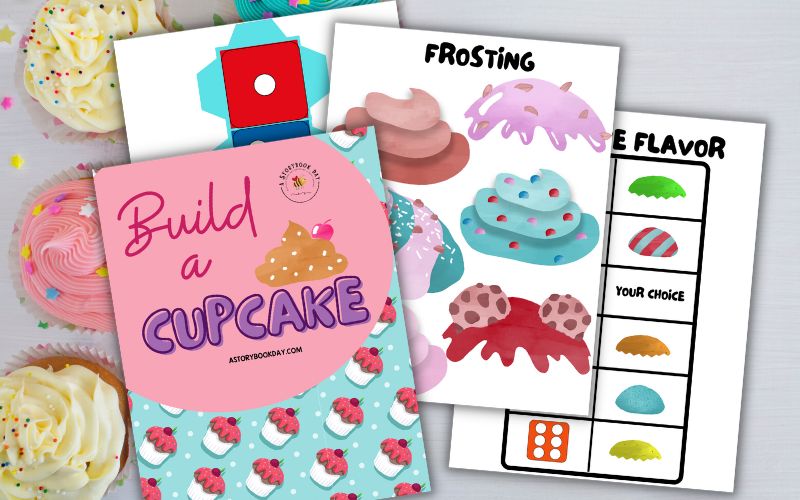 How to Download
Just fill out the form below and you'll get instant access to this set of donut activity sheets.
Why should I subscribe?
access to my subscriber-exclusive resource library
updates, freebies, and exclusive offers
instant access to subscriber-exclusive printables
More Fun Printable for Kids