Easter Story Scavenger Hunt for Kids: A Fun Faith-Based Printable
Are you looking for a fun printable Easter activity to do with your kids? This Easter scavenger hunt is a great way to teach kids about the death and resurrection of Jesus. They'll have a blast hunting for all the items on the scavenger hunt list, and you'll be able to share what each item means.
This activity is perfect for keeping kids entertained while also teaching them about the Easter story. The best part is that this scavenger hunt is faith-based, and it will help your kids learn more about the death and resurrection of Jesus.
Easter is a time for family, friends, and fun. For Christians, Easter is a time to celebrate Jesus Christ's resurrection from the dead. It's a time to reflect on his sacrifice and what it means for our own lives.
By teaching kids about the true meaning of Easter and reading Easter bible verses for kids, we can help them understand the importance of this holiday and its place in our faith. We can also help them to see beyond the bunny rabbits and chocolate eggs to the real reason for celebrating Easter.
How to Do the Easter Story Scavenger Hunt
Give each child a copy of the Scavenger hunt. Be sure to explain that they will be looking for something that they think best represents the item from the story of Jesus' crucifixion and resurrection.
Be Creative!. (Example: Linens could be a clean tissue, or the bread could be crackers.)
Be sure to g1ive them appropriate boundaries, i.e. it's ok to go in the kitchen or don't forget to look outside.
When everyone is finished, come back together and take time to discuss each item and read the scripture card that goes with it.
Talk about what happened & the meaning of each of the items the Easter story, etc.
This printable Easter scavenger hunt includes:
4 page .pdf
cover page
scavenger hunt list of items to find
instructions
10 Bible verse cards
Free Printable Easter Story Scavenger Hunt
This printable Easter story scavenger hunt has everything you need to get started. It's faith-based and perfect for families who are looking to incorporate religious elements into their celebration. Enjoy!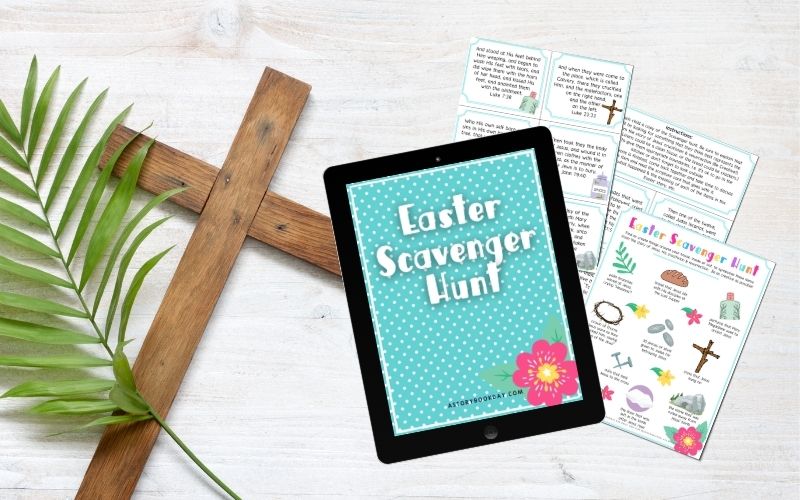 How to Download
Just fill out the form below and you'll receive an email giving you instant access to this free printable. If you are already a subscriber, filling out the form won't affect your subscription, but you will receive the link to get the printable!Why should I subscribe?
access to my subscriber exclusive resource library
exclusive coupons and sales to my shop
updates, challenges, freebies, and exclusive offers
instant access to subscriber exclusive printables
Easter is a special time when we celebrate Jesus' resurrection and victory over death. I hope this scavenger hunt helps your family learn more about what Easter is all about.
Thanks for reading and be sure to share this post with your friends!
More Easter Printables You'll Love