Back to School Interviews for First and Last Day
Remember the thrill of your child's first day of preschool and how much they'd changed by their last? Ever wish you had a snapshot of their thoughts, hopes, and dreams from each of those pivotal days? Today I'm sharing a fun set of printables! This free printable first day of school and last day of school interviews will be a fun keepsake you'll keep forever!
The first and last days of a school year are exciting, transformative, and often filled with anticipation. They provide a wonderful opportunity to capture the essence of the change and growth that occurs in children.
This year, whether you're a homeschooling mom or a classroom teacher, I've created a special treat for you: a First Day of School Interview and a Last Day of School Interview printable! These back-to-school questionnaires are designed to make memory-keeping fun and easy.
Why Use the Back-to-School Interview Printables?
Memory Capturing: Kids grow up fast, and these interviews help in capturing their personalities, likes, dislikes, and aspirations at specific moments in their academic life.
Reflection and Growth: By comparing the first and last day interviews, you can visibly see the changes and growth that have taken place.
Building Confidence: It allows children to express themselves and be proud of their achievements.
Interactive Learning: The interview format is a fun way to engage kids in introspective thinking.
What's Included in the Back to School Printable?
First Day of School Interview:
Name, Age, and Grade Level
My teacher's name is
What school do you attend?
What do you want to be when you grow up?
How tall are you? What size shoes do you wear?
Your favorites
Words to describe you
Last Day of School Interview:
My favorite subject this year
Best memory of the year
This summer I'm excited about
How tall are you? What size shoes do you wear?
My favorites
Words to describe you
How to Use these Back-to-School Questionaires?
First Day: Sit down with your child or student on the first day of school and fill out the 'First Day' printable. This is a great icebreaker activity for the classroom or a special homeschool tradition.
Save it: Put it in a safe place, like a folder or binder dedicated to your child's schoolwork or memories.
Last Day: When the year wraps up, pull out the 'First Day' interview and then complete the 'Last Day' interview.
Compare and Reflect: Spend some time reflecting on the answers, noting the changes, and discussing the school year's memories.
More Back to School Ideas
Free Printable First Day and Last Day of School Interviews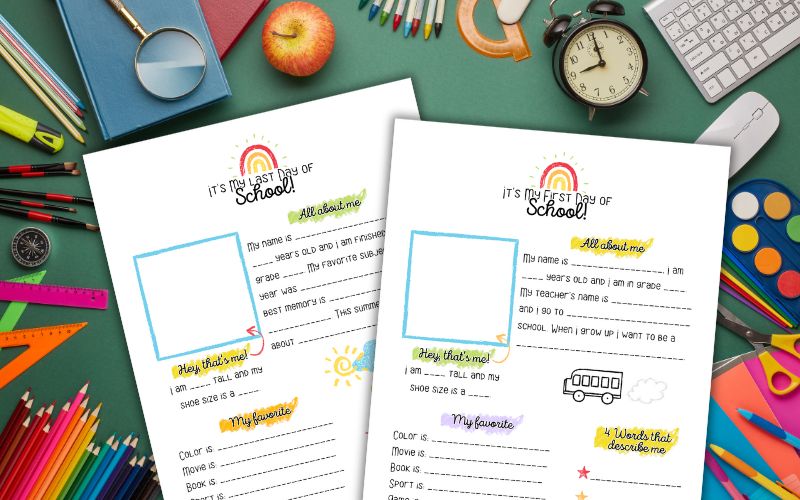 How to Download
Just click on the button below and you'll be taken to the download page.
Conclusion
Capturing memories and reflecting on a year of growth and learning is a beautiful way to close one chapter and look forward to the next. These printables are not only a keepsake but also a wonderful tool to help kids become more self-aware and appreciate their achievements. So, let's start this school year with excitement and end with reflection and gratitude!