80+ Easter Egg Filler Ideas that Kids and Adults will Love
If you are looking for some fun ideas to fill your Easter eggs, look no further! In this blog post, I'm sharing a huge list of 80+ easter egg filler ideas that will make your eggs extra special. From toys to treats, there is something for everyone on your list. So what are you waiting for? Start filling those eggs!
Easter is just around the corner and you might be looking for some fun ideas to stuff those eggs with! I've got you covered with so many easter egg filler ideas!!
From classic favorites like candy and money to new ideas like small toys or gift cards, I've got a list of ideas that will make your Easter eggs the most exciting ones around. Ready to get started? Check out my list of easter egg filler ideas and get stuffing!
85 Easter Egg Filler Ideas
Kids
HAIR TIES
FUN SHOELACES
MARBLES
PUFFY STICKERS
TEMPORARY TATTOOS
WHISTLE
MATCHBOX CARS
CHAPSTICK
SCRUNCHIES
BANDANA
INFLATABLE BEACH BALL
COINS (REAL MONEY)
FUN ERASER
FUN SOCKS
KID'S EARBUDS
COIN PURSE
ARMY MEN
MINI PLAY DOUGH
PLASTIC BUGS
PLASTIC ANIMALS
WASHI TAPES
FINGER PUPPETS
BALLOONS
MINI BUILDING BLOCK SET
MINI BOUNCE BALLS
STICKY HANDS
NOVELTY RINGS
RUBBER DUCKY
CHALK
MINI BUBBLES
PUZZLE PIECES
NAILS STICKERS
NOTES
Teens
RINGS
NECKLACES
EARRINGS
BRACELETS
MILITARY DOG TAGS
SCRUNCHIES
HAIR TIES
CLIP-IN EXTENSIONS
HEADBANDS
COLORFUL SHOELACES
KEYCHAINS
LANYARDS
LIP GLOSS
EYE SHADOWS
MAKEUP SPONGEs
LIP BALMS
MINI NAIL POLISH
NAIL STICKERS
TRAVEL SIZE HAIR AND BEAUTY PRODUCTS
ERASERS
PAGE MARKERS
COOL PAPER CLIPS
SPECIALTY TEA
COFFEE PACKETS
HOT CHOCOLATE PACKETS
FLAVOR KITS FOR WATER
ESSENTIAL OILS
GUITAR PICKS
EARBUDS
MONEY
MOVIE TICKETS
GIFT CARDS
Adults
LIP BALM
GUITAR PICKS
GIFT CARDS
CHOCOLATES
MINTS
CONDIMENT PACKETS
COUPONS
BATTERIES(WITH GIFT NOT INCLUDED NOTE)
CASH
JEWELRY
SOCKS
BATH BOMBS
MINI PERFUMES
NAIL POLISH
LENS CLEANING WIPES
GOLF TEES
CAR VENT AIR FRESHENERS
SEEDS
WIPES
HOMEMADE COUPONS
Free Printable Easter Filler Ideas Checklist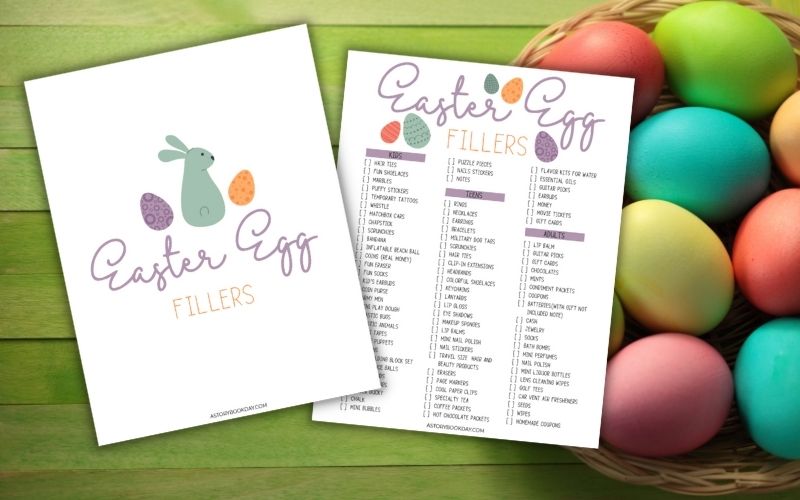 How to Download
Just click the button below and you'll be taken to the download page.
More Fun Easter Ideas
Easter is coming up soon and we hope this list of fun filler ideas helps you get ready for the holiday. Whether you're looking for something to keep the kids entertained or want some new ideas for your own egg hunt, we think you'll find something here that will make your celebration extra special. Thanks for reading and be sure to share this post with your friends!