Summer Beach Packing Lists for Moms with Toddlers + Free Printable
Summer is here and it's time to pack up the kids for a day at the beach. It's stressful when you get there and realize you forgot something important. But don't worry because today I'm sharing a fun summer beach packing list for moms with toddlers that will make your life so much easier! Here's to a happy summer!
Be sure to grab the free printable beach packing list with toddlers at the bottom of the post!
Beach, toddler, and enjoyable. Can those even coexist in the same sentence?
The key to having an enjoyable beach vacation or beach trip with your toddler is preparation. That's why I wanted to share with you my packing list for a beach trip with toddlers. Simply being well prepared can allow you to make some fantastic memories of the beach with your toddlers and reduce the stress of your beach trip.
Complete Beach Trip Packing List for Toddlers
Here is a quick rundown of all the beach gear you need for your beach trip with your toddler. I am going to go into these in more detail further down with my recommendations. This list will give you a good idea of what you have and what you need.
Toddler Safe BeachToys

Shovels and buckets
Dump trucks
Sandcastle formers
Balls
Inflatable Pool
Beach Wear for your Toddler

Rash Guards (Sun and skin protection)
Sunglasses
Ponytail Holders for toddlers with long hair
Swimsuits (at least two)
Sunhat
Swimsuit Cover Up
Swim Diapers
Pool Shoes
Toddler Beach Essentials

Playpen or Pallette to Sleep on
Wet Bag
Sippy Cups
Snack Cups
Take and Toss Bowls/Plates and Utensils
Water Proof Sling
Baby Wipes
Beach Essentials for the Whole Family

Beach Tent
Foldable Wagon
Mesh Laundry Bag
Baby Powder
First Aid Kit
Lip Balm
Sunscreen
Beach Towels
Cooler for Drinks and Snacks
Water jug with Spout for washing hands
5-gallon bucket
Beach Friendly Snacks

Fruit
Crackers
Cut Up Veggies
Premade Wraps
Granola Bars
Energy Balls
Hard-Boiled Eggs
Toddler Safe Beach Toys
Your toddler will spend more time in the sand than the water, so bring along a variety of toys they can use in the sand. The toys will keep your toddler from getting bored, which means less whining.
I always carry beach toys in a mesh laundry bag to wash them off easily at the hotel or home.
You can find these at any store or shop on the way to the beach, but I really hate how cheaply most of them are made and how they usually don't hold up to more than a few weeks. I like this 3 pack of shovels and pails because they hold up so well, plus the pails are collapsable and fold flat.
Dump trucks
Boys and girls alike love playing with dump trucks at the beach. I have seen this keep my toddlers busy for an entire morning. Here are the 3 dump trucks I recommend.
Big Pink and Purple Dump Truck– This one is great for little girls who don't want a "boy's dump truck." The size is perfect for the beach, plus it rinses clean easily.
Big Traditional Dump Truck– This one is almost as big as the pink and purple dump truck but comes in the traditional red and yellow colors. It is BPA-free, rinses clean quickly, and is a winner in our family.
Dump Truck with Sand Toys– I love that this one comes with another shovel and pail and a few sand castle formers. If you are looking to make one purchase for beach toys, I suggest this dump truck. The sand formers are cute and tiny enough for little hands to work with easily.
One mistake I made was telling my toddlers we would make sandcastles.
But when I showed them how to use their pail to make it a sandcastle, they were heartbroken. Poor babies had a real little castle in their minds.
Now we never go to the beach without sand castle formers. This set is my favorite for my kids to use independently or for us to build together. Wet-packed sand easily comes out of the forms looking like actual castles. No more disenchanted toddlers.
Reusable water balloons are a lot of fun, won't blow away, and kids love them. These are fun to toss back and forth, and there is no latex to clean up afterward. Just squeeze out the balloons and let them dry.
Of course, with the beach, you think beach balls are a good idea, but as windy as it is, beach balls are more than likely to be heading down the beach without you.
I like taking balls, but I try to bring balls that float and are small enough for your toddler to grab easily. This is a toybox find for our house.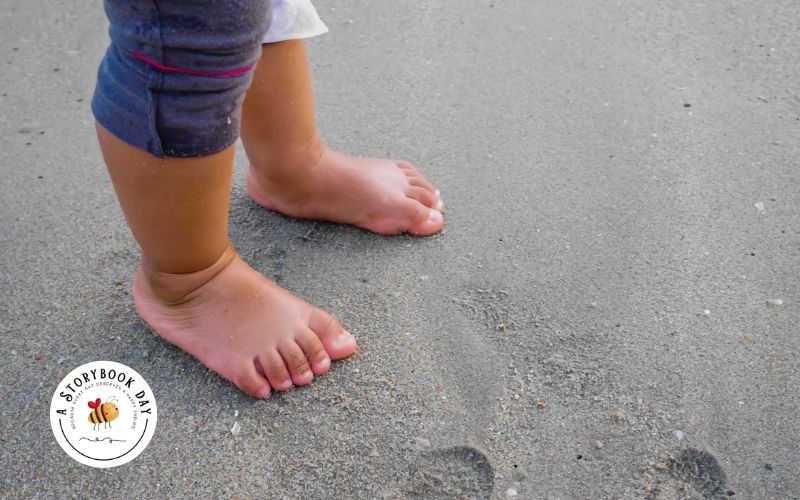 It might sound silly to add an inflatable pool to the beach packing list for toddlers, but it is the perfect way to let your young toddlers enjoy the water safely. It is incredible for kids who are afraid of the waves.
This is why I suggest the 5-gallon bucket (to add water to the pool). I like putting about 3-4 inches of water to the bottom of the pool. You can even add some sand to one side for your toddler to safely play in.
Make sure to bring a small pool; otherwise, you will spend all day trying to get enough water in the bottom of it. This pool is the largest I would bring.
Beach Wear for your Toddler
No packing list is complete without beachwear for your toddler. You want to protect your baby's skin from the sun but also the sand. Here is what we always bring with us to the beach.
Rash Guard
Honestly, I think rash guards are the best swimwear purchase you can make. Look for a long-sleeve option to protect your little one from sunburn.
Rashguards also protect your little one's skin from being irritated by the sand and the wind on the beach.
Sunglasses
Your little one's vision is essential, and protecting their eyes from damaging UV rays with sunglasses isn't about being stylish. It's about being smart.
Getting your little one sunglasses that are UV-A and UV-B rated will keep their eyes protected no matter how long you spend at the beach.
Ponytail Holders for toddlers with long hair
A must-have for my packing list for a beach trip with a toddler are hair ties.
The wind and the waves are sure to leave your long-haired toddler with tangles, not to mention their hair being blown in their face all day.
If your toddler's hair is long enough, I suggest putting in some leave-in conditioner and braid it to minimize tangles and to keep it out of their face.
Swimsuits (at least two)
When we took the kids to the beach last summer, I took one swimsuit for my toddler with me.
It fit her just a few weeks before. At the beach, we put on her suit to find out it barely fit her and was highly uncomfortable.
From then on, I bring two suits, not only for an ill-fitting suit but for the unpredictability that comes with toddlers. It's always good to have a backup.
Sunhat
Sunhats are essential, especially for babies and toddlers with very thin hair. Make sure that the sun hat you choose has a UPF rating which is SPF for clothing.
Swimsuit Cover Up
Honestly, swimsuit covers are just for cuteness, but if you wear one when you leave the beach to go to shops or a restaurant, your little one would probably like one too. Absorbent ones are the best, in my opinion.
Swim Diapers
Swim diapers are a must-have. You can use disposable swim diapers or reusable.
Swim diapers are designed to capture solids, so if your baby goes number 2, it should stay trapped in the diaper. But water and other liquids move through it without weighing it down.
Pool Shoes
At the beach, pool shoes are a must!
The beach sand can be scorching, and often there can be sharp shells or even pieces of litter left behind from other beach users.
A pair of pool shoes keep your toddler's feet safe and protected no matter what's on the beach.
Toddler Beach Essentials
Over toys and beachwear, there are a few more beach essentials for toddlers to consider when packing.
Things like a playpen, wet back, sippy cups, snack cups, toddler dishes, a waterproof sling, and babies wipes are included on my list.
Playpen or Palette to Nap on
If your beach excursion is going to last through nap time, it would be wise to grab your toddler's playpen or something to make a little palette for them to sleep on. Here is how I pack a simple beach palette:
Take a pillow with a pillowcase, add an extra beach towel rolled up or folded, a small snuggly toy, and a lightweight blanket.
Make sure your child has some shade and isn't too warm. If your toddler sleeps without a pillow or blanket, you may just need a beach towel.
Wet Bag
A wet bag is an essential beach item for a toddler.
When you are stripping off wet beach clothes or your toddler is wearing reusable swim diapers, you need a wet back to store the wet items.
That ensures the wet clothes won't leave your vehicle with a smelly wet spot.
Sippy Cups, Snack Cups, and Toddler Dishes
Bring two sippy cups for your toddler to drink water or juice on the beach. If one falls in the sand and your toddler does not trust your rinsing abilities, you have another cup to prevent a meltdown.
As for snack cups, I really like the cups with silicone tops that allow your toddler to reach in but not dump the snacks out.
While you are packing, go ahead and toss in a package of Take and Toss dishes. I like to use Take and Toss dishes for my toddlers when I share something from my to-go order. But they also work great for snacks at the beach, and they are so easy to clean.
Waterproof Sling
If your toddler is still small enough to ride in a sling, consider investing in a waterproof sling.
You can find several options under $20.
Waterproof slings are mesh and have maximum breathability.
If your toddler is too tired to walk back, no worries, pop them in the sling, then you are hands-free to handle packing the rest of the stuff back.
Baby Wipes
I know you probably haven't gone a single place without a package of baby wipes since your toddler was born, but for some reason, baby wipes are the one thing that I always forget.
This is your reminder (and mine): Don't forget baby wipes!!
Beach Essential for the Whole Family
Toddlers are not the only people who will be going to the beach. I wanted to add a list of items that will benefit the whole family.
The following items are not only helpful for your toddler but the whole family too.
Trust me; you need somewhere to get out of the sun and somewhere for your toddler to escape the sun. I like a beach tent so much more than a beach umbrella because they fold up so compact and offer more coverage than a beach umbrella.
Foldable Wagon
Wondering how in the world you are supposed to pack all the things on this list to the beach?
A foldable wagon is one of those things that I wish I would have bought sooner. I use mine constantly – and not just for the beach! These wagons are great for camping with toddlers too!
Mesh Laundry Bag
Secret Beach Hack: Bring a mesh laundry bag to carry back all the sandy stuff that needs rinsing off.
I toss anything plastic inside the mesh laundry bag and rinse it off at the beach showers or with a water hose at home.
The sand washes out, you can pick it up and shake out the extra water, and it contains everything beautifully.
Baby Powder
Baby powder is a great way to get the sand (even wet sand) off your skin before getting in your car if there are no showers available.
Simply squeeze some in your hand and rub it over your skin, and the sand will fall off.
Not only will it work on your skin, but it also works on your hair!
Lip Balm with SPF
Sunburned lips are miserable. Add in the saltwater, wind, and sand, and your lips need some protection.
Opt for a lip balm with SPF and remember to apply it to everyone regularly.
First Aid Kit
You need at least a simple first aid kit for your trip to the beach. I highly suggest making one for your diaper bag anyway.
At the very least, pack some bandages, rubbing alcohol, peroxide, scissors, hydrocortisone cream, and triple antibiotic cream.
Sunscreen
Even if the day you decide to go to the beach is cloudy and cool, make sure to put on plenty of sunscreen to any parts of your body exposed to the sun.
For me, I always forget the lower part of my back where my swim top creeps up from picking up on toddlers all day.
Make sure to set a timer on your phone or smartwatch to reapply sunscreen every hour.
Beach Towels
Bring at least a couple of extra beach towels and designate one or two beach towels for people who want to dry off frequently throughout the day.
At the end of your beach trip, you don't have a stack of wet beach towels and no way to dry off.
We keep the towels to dry off to go home in the car, so they are guaranteed to be dry at the end of the day.
Cooler for Drinks and Snacks
If you bring drinks and snacks, you will need a cooler to keep them iced down and ready to go.
Don't forget to bring lots of water bottles to stay hydrated.
You can also freeze about half of the water bottles you plan to bring to keep things cold instead of buying ice. The frozen water bottles slowly thaw, leaving you with ice-cold water even at the end of your long day.
Water jug with Spout for washing hands
The best trick I learned from an older mom at the beach was to bring a water dispenser or tea jug that has a spout.
It makes washing hands before snacks a breeze.
You can even use it to rinse off sippy cups and other items that hit the sand.
5-Gallon Bucket
A 5-gallon bucket is essential on my beach trips. I use it to contain things while we are there, fill up the toddler's private inflatable pool, and tote items back to the car before we leave.
You can use it as a personal trash receptacle so that you are leaving the beach as clean as you found it.
Beach-Friendly Snacks
If you want a happy toddler, make sure you bring lots of beach-friendly snacks that they can eat, so they are not cranky!
Here is my list of favorite snacks to bring to the beach that toddlers will love:
Fruit (cut it up before you leave)
Crackers (animal crackers, goldfish, or even regular crackers)
Cut Up Veggies
Premade Wraps (make sure you foil these and then put them together in a Ziplock bag for the cooler)
Granola Bars (homemade or store-bought)
Energy Balls (these are great snacks that hit the spot with a toddler who doesn't want to slow down to snack.)
Hard-Boiled Eggs (peel them before you leave)
The Takeaway
Taking your toddler to the beach can be an enjoyable event as long as you anticipate their needs and prepare accordingly.
Tell me in the comments. Did I leave anything off my list that you always take to the beach for your toddler? What would you add to a family holiday packing list?
Don't forget to grab my free Beach Packing List for Toddlers so that you don't forget a single thing.
Free Printable Beach Packing List with Toddlers
Grab my free printable beach packing list with toddlers below – you'll receive a .pdf with two versions of the list: one in color and one in black and white.
How to Download
Just fill out the form below and you'll get instant access to this set of donut activity sheets.
Why should I subscribe?
access to my subscriber-exclusive resource library
updates, freebies, and exclusive offers
instant access to subscriber-exclusive printables