A Simple Free Printable Weekly Homeschool Planning Page for Moms
Homeschooling is a fun and exciting journey of learning together with your children, but it also requires a bit of organization. Planning ahead can ease the daily flow, help ensure you're covering all subjects adequately, and also allow you to keep track of fun activities and weekend plans. And while there are many planners available in the market, sometimes all you need is a simple, free, printable weekly homeschool planning page.
Today, I'm sharing just that—a printable planning page crafted with homeschooling moms in mind. It's easy to use and offers space for everything you need throughout the week.
Features of the Weekly Homeschool Planning Page:
Subject-wise Lesson Plans: Each day is divided into subject slots. This way, you can quickly jot down what lesson or activity you plan to cover under each subject for every day of the week.
Weekend Plans: We know the learning doesn't stop during the weekend. There's a special section to note down any weekend educational trips, workshops, or just family outings you have planned.
Fun Activities: Homeschooling is not just about textbooks and lessons. It's also about learning through fun activities. There's space for you to plan these, whether they are science experiments, art projects, or just a game day.
Notes Section: Whether it's a reminder to pick up a library book, a prompt about an upcoming homeschool co-op meet, or just a space to jot down any observations and thoughts, the notes section ensures you won't forget.
How to Use the Printable Planner:
Print: Start by printing out the planner. You can choose to print multiple copies for future weeks or just print one and see how it works for you. You might consider laminating it to use with a dry-erase marker for a reusable option.
Fill in the Dates: At the top, you'll find a space to write down the week's dates. This helps in keeping track of your lessons and ensuring you're on track.
Plan Your Subjects: Begin by listing the subjects you'll cover that week. Once you have your subjects listed, fill in the specific lessons or topics you plan to teach each day.
Add Fun Activities: Intersperse the week with fun activities. They provide a great break from routine and can be incredibly educational.
Note Down Weekend Plans: Use this section to ensure you incorporate educational activities even on weekends. It can be as simple as a nature walk or a visit to a local museum.
Jot Down Notes: As you go through your week, use the notes section for any reminders or observations.
Free Printable Homeschool Weekly Planning Page
Simplify your homeschooling week with our Weekly Homeschool Planning Page. This free printable helps you effortlessly organize lessons, weekend activities, and essential notes, offering a streamlined view of your week ahead. Dive into organized homeschooling with ease!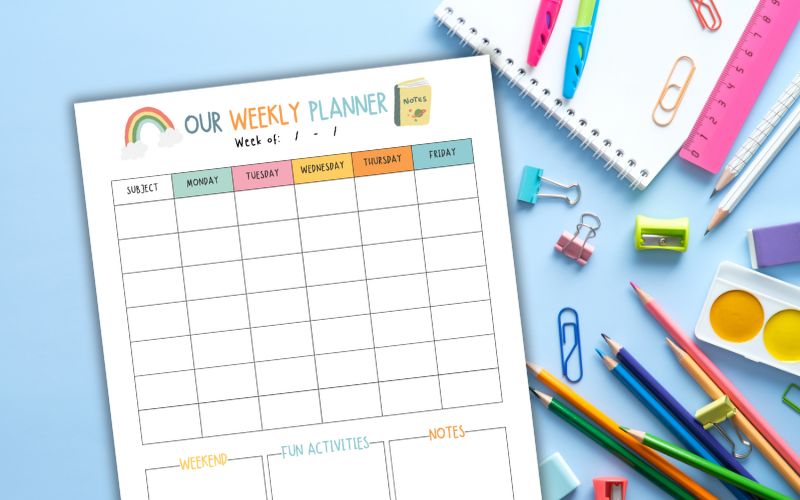 How to Download
Just click on the button below and you'll be taken to the download page.
Conclusion
Homeschooling can be a rewarding experience, especially when you're well-organized. This simple free printable weekly homeschool planning page is designed to help moms keep their homeschool journey smooth and enjoyable.
While this is a basic tool, the beauty lies in its simplicity—making it adaptable to any homeschool style or curriculum. So, print, plan, and pave the way for a fantastic homeschooling week ahead!
More Homeschooling Ideas