Spring Unit Study Ideas | Ideas to Keep Kids Engaged
Spring is a great time to explore the outdoors with your kids. There are so many fun things to do with them, that it can be hard to keep their attention! This blog post includes lots of ideas for keeping homeschoolers engaged in spring and having a great time. You'll find over 25 spring unit study ideas to add to your homeschool day.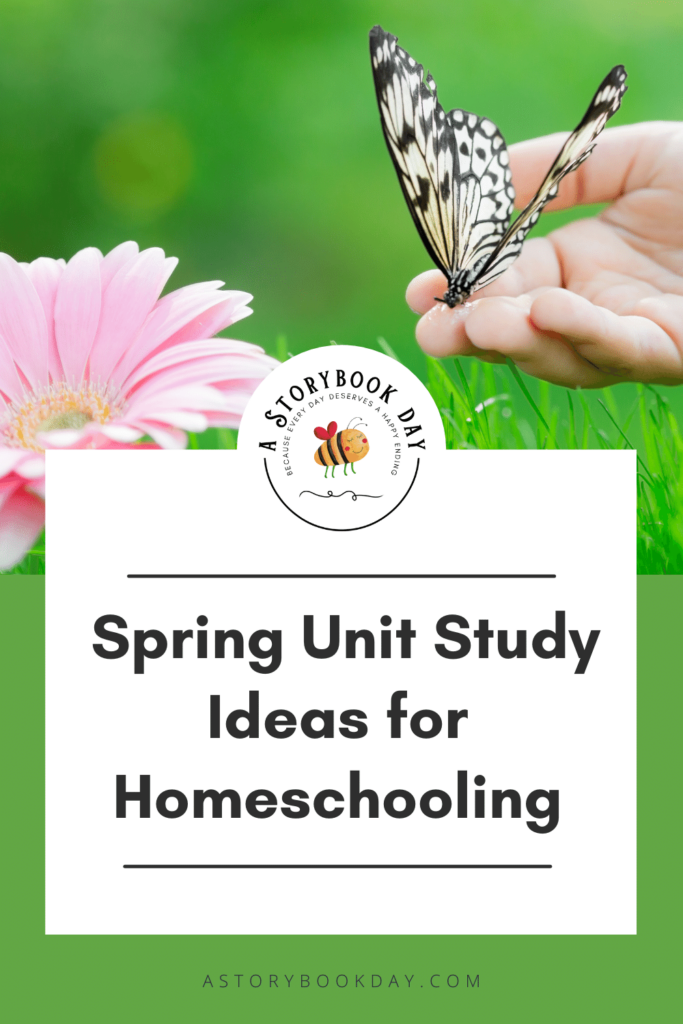 Spring is the perfect time of year for kids to get outside! With all the sunshine and warmer weather, it's not hard to keep your kids entertained. Springtime can be filled with many different activities that will help homeschoolers learn as they play. In this blog post, we will share 11 ideas of things you can do with your children during spring break or any other day throughout the season!
What is a unit study and how do they work
Unit studies are a way to provide content for your homeschool and work as a great supplement to what you're already doing. They involve all sorts of areas like Science, Math, History, Art – anything that can be explored in-depth with one unit!
Homeschoolers will have the opportunity to learn about concepts they may not usually explore through textbooks and other traditional methods.
A unit study is the comparison of two or more related topics, and in order to learn about these topics as a whole, you will need to explore them from different angles. Your children can read books on their own time and answer questions pertaining to what they've just read, take art lessons by drawing subjects that are being discussed in the unit, and much more.
Unit studies are a great way to not only learn new things but stay engaged during the springtime!
Ideas for spring-themed units
#1 Study the seasons, including spring and its four phases: growing warmer, blooming flowers, budding trees, and migrating birds.
#2 Compare pictures of different plants from around the world to see how they are adapted to their environment with some being cold-weather tolerant while others thrive in heat or dryness.
#3 Examine what a bird's nest is made up – finding out that nests can be as complicated as treehouses with tunnels connecting them together! Explore the many types of materials that will make up a good nest such as mosses, leaves, sticks (and much more).
#4 Birds are a great topic to study in the spring. Study them and their habitat, learn about migration patterns, read books on birds of prey such as owls or hawks. We used to spend hours bird watching and looking up different bird in our field guides.
#5 Another idea is to study the life cycle of a butterfly and explore how each phase changes from caterpillar to cocoon to beautiful butterflies.
#6 Explore what spring means in different cultures, including Japan where it's called 'Shunbun' or Germany which celebrates as 'Walpurgis Night'.
#7 Another idea is for homeschools with younger kids is to study Earthworms – their behavior (such as burrowing), habitats, feeding habits and more!
#8 Perhaps you live somewhere that there are many flowers blooming so why not have a flower press workshop? Anyone can make one at home by pressing fresh cut flowers between two sheets of paper until they dry. Weight the sheets of paper between two heavy books or other objects until the flowers are dried. This can take between 7 and 10 days for the flowers to be ready for use.
#9 One of my favorite activities for homeschooling in the spring is to explore the world of sound. There are many ways your students can have fun with this activity, I've included a few below:
Students can conduct their own experiments to see how different objects affect the pitch and volume of sounds they make by hitting them or rubbing them together
A game that older kids will enjoy is trying to identify which object makes specific sounds by listening closely for clues in different recordings
Kids might be interested in making their own instruments out of household items such as spoons, wooden blocks (with rubber bands), paper plates – just about anything!
#11 Insects are a fascinating topic to study in the world's ecosystems. They have many different life cycles that can be observed (complete with metamorphoses) right at home! The National Geographic site has some great resources for homeschool teachers.
#12 Drawing is an excellent way to explore creativity in all sorts of ways during the spring months. I used to love to take my children outside to do nature sketches in the spring. Give your kids the opportunity to observe and record this spring!
#13 Spring means flowers so field trips outside exploring gardens and public parks can inspire your kids' sense of design while they work on seasonal crafts like painting Easter eggs or making flower crowns out of paper plates covered in tissue paper petals
Resources for finding more ideas
Some of my favorite resources to find more unit study ideas are:
National Geographic
Homeschool Share
Pinterest (search for "spring unit study" to find boards of ideas)
the public library
Tips on How to Make the Most of Your Time with a Unit Study
Homeschool moms are incredibly busy and making the most of your time with a unit study is always helpful. Here are some ways to make the most of your time with a unit study:
-Set up an area in which you can work on all of the things that go along with this topic, and put it away when not using.
-Get out once a week if possible–get outside for fresh air while enjoying nature's beauty!
-Utilize any free or inexpensive programs offered at museums. They often have day camps during spring break as well so consider taking advantage of those options for field trips too. Save money by registering early because these spots tend to fill quickly!
-Try new software (free) like Creativity Street or Khan Academy online resources where kids can watch videos about science topics and then complete exercises online.
Ways to make it fun! (games, crafts)
Your spring-themed unit study should be fun! You want your kids to enjoy learning. Here are a few ideas to make your unit study even more fun:
-Scavenger hunts–A scavenger hunt is a fun way to explore and research topics. Make one up, or use the printable ones on Educents.
-Games with cards or dice like Bingo, Scattergories, Clue
-Adopt an animal species of your choice–learn about them together!
-Learn something new by reading books that are related to plants and animals you're studying
-Plant seeds indoors now for when they come out into your garden this summer (especially if it's still too cold outside)
How to Create a Unit Study
1. Make a list of all the topics you want to cover in your unit study
2. Research online and at the library for books, websites, and other resources that will help you with your studies
3. Choose one topic to start with
4. Find out what materials are needed (books, paper, pens) and gather them together before starting on your first day of studying
5. Keep track of how much time is spent on each subject so you can plan accordingly for future units
6. Have fun!
15 Activities to Add to Your Spring Unit Study
Do you love spring as much as I do? It just feels like a fresh start, don't you think? Here are some fun ideas for you to do with your kids.
I hope this list inspires you to find ways to enjoy learning about nature during your homeschooling journey all year round! 🙂